Make These Wickedly Spicy Weed-infused Caramel Popcorn Bites
What's Halloween without the scary movies, and what's the movies without popcorn? Make this wickedly spicy and delightfully sweet twist on the classic movie snack at home. With the addition of weed butter (see our recipe here), this sweet and savory treat is sure to lift your spirits. When making your weed butter, we recommend choosing a strain you already love. For this recipe, we went with Fun Uncle's Shotgun OG for its earthy flavor and relaxing effects, but nearly any flower strain will do. You can adjust the level of spice and canna-butter for your taste and THC tolerance. Remember, start low and slow and you'll be in for a howling good time!
Ingredients
Nonstick cooking spray
3 tbsp vegetable oil
0.5 cup popcorn kernels
1.5 tsp baking soda
0.75 teaspoon cayenne pepper
3 cups sugar
3 tbsp cannabis butter (cut with plain butter to adjust dosage)
1.5 tbsp kosher salt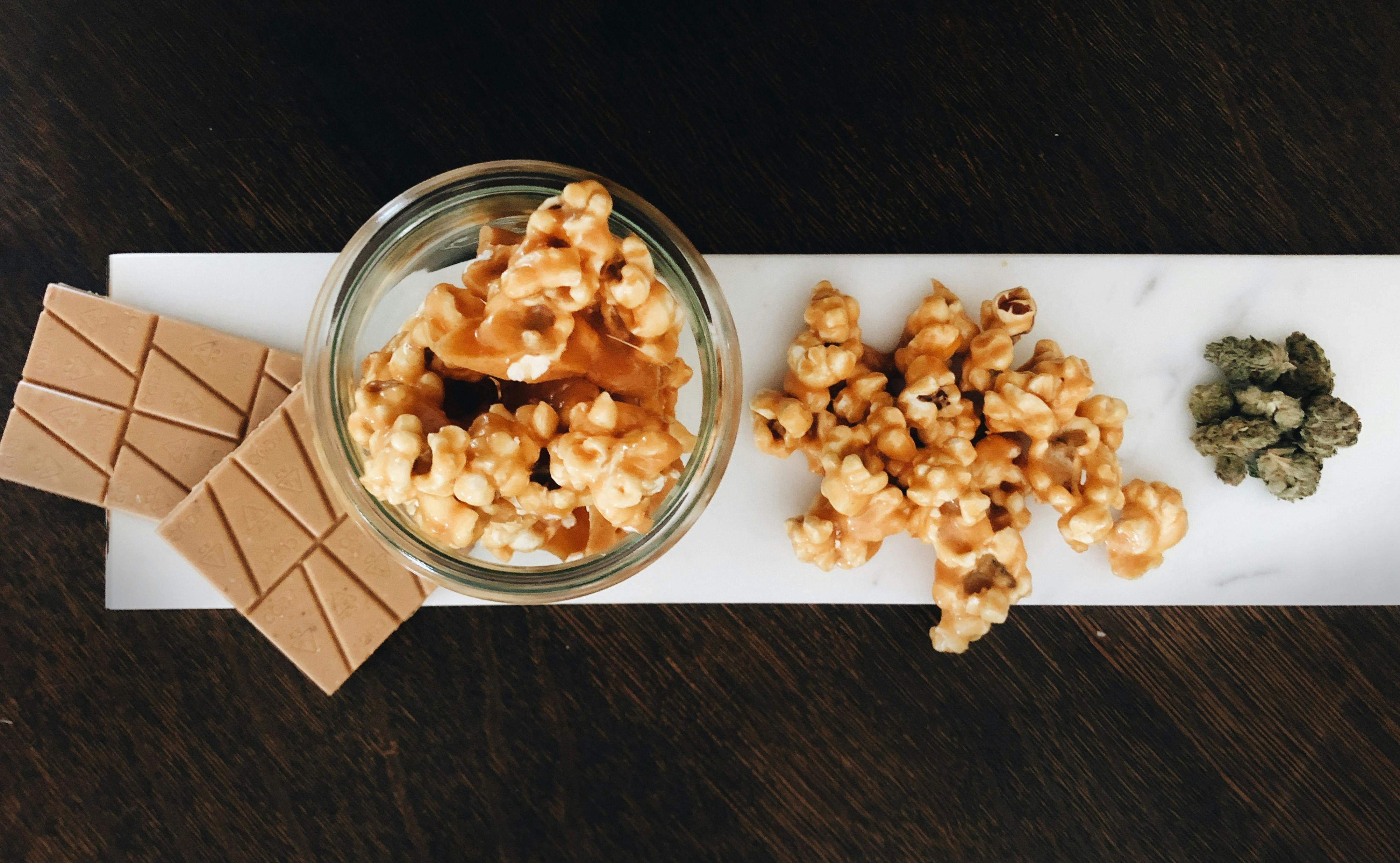 Instructions
Lightly coat two rubber spatulas and a large mixing bowl with nonstick cooking spray. In a small bowl, combine the baking soda and cayenne pepper and set aside.
Heat the vegetable oil over medium-high heat in a large saucepan or pot with a lid. Add the popcorn kernels and cover until all of the kernels have popped, about 5 minutes. Be sure to keep the pan moving to avoid burning. Transfer to the mixing bowl and remove any unpopped kernels.
Prepare two large baking sheets. Combine the sugar, cannabis butter, salt and 1/2 cup water in a medium saucepan. Without stirring, cook over high heat until the mixture becomes a light golden brown, about 10-14 minutes. Remove from the heat and whisk in the baking soda and cayenne pepper mix.
Pour the hot caramel mixture over the popcorn. Using the previously prepared spatulas, toss the caramel and popcorn together until the popcorn is well coated. Spread the popcorn onto the baking sheets and separate them into small bite-sized pieces while still warm. Let cool to room temperature, and enjoy!
Recipe adapted from the NYT Cooking "Spicy Caramel Popcorn" recipe.