The Ultimate Dessert: Cannabis Cream Puffs with Lemon Verbena featuring Alien OG
Medicated Cream Puffs with Lemon Verbena featuring Alien OG
The holidays are upon us and with that comes holiday parties, family dinners and more. We worked with Sous Weed to whip up a cannabis infused dessert everyone is sure to love! These medicated cream puffs are lightly infused with Caliva's Alien OG, an indica-dominant hybrid with an earthy, citrus aroma that pairs nicely with a lemon verbena cream filling. While cream puffs may look challenging, with a little preparation, it's a great make-ahead recipe for your next holiday party. All you need to do is assemble before serving and add a little dusting of powdered sugar. One bite will take you on a euphoric, out-of-this-world experience!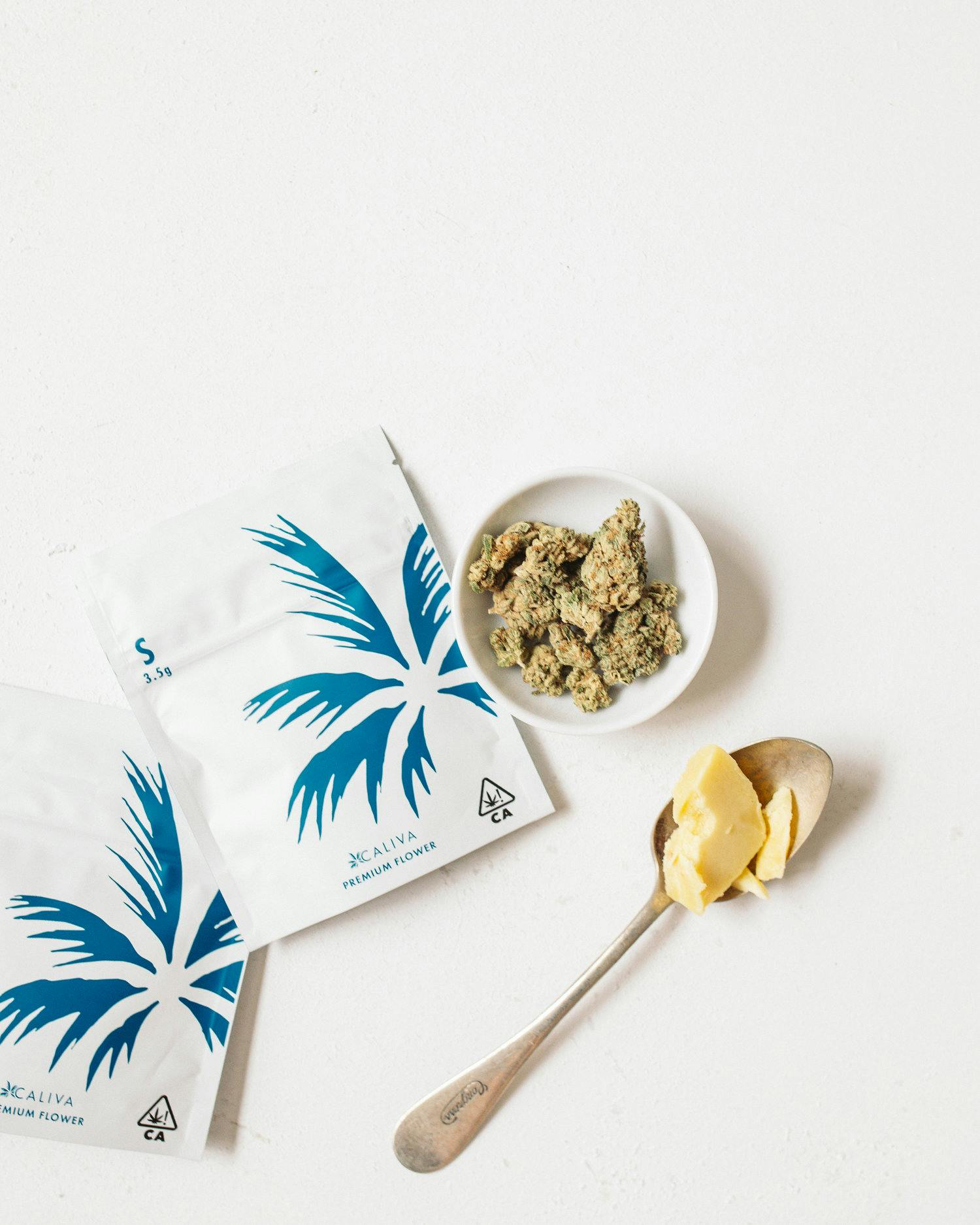 Medicated Cream Puffs with Lemon Verbena
Makes 24 cream puffs
Strain: Alien OG from Caliva
Dosage: Approximately 10 mg per cream puff
Ingredients for Pâte à Choux:
•  ½ cup unsalted butter
•  ½ cup water
•  ½ cup whole milk
•  Pinch of kosher salt
•  1 tsp cane sugar
•  1 cup all-purpose flour
•  5 large eggs, beaten, save 1 Tbsp
•  Confectioner's sugar, to finish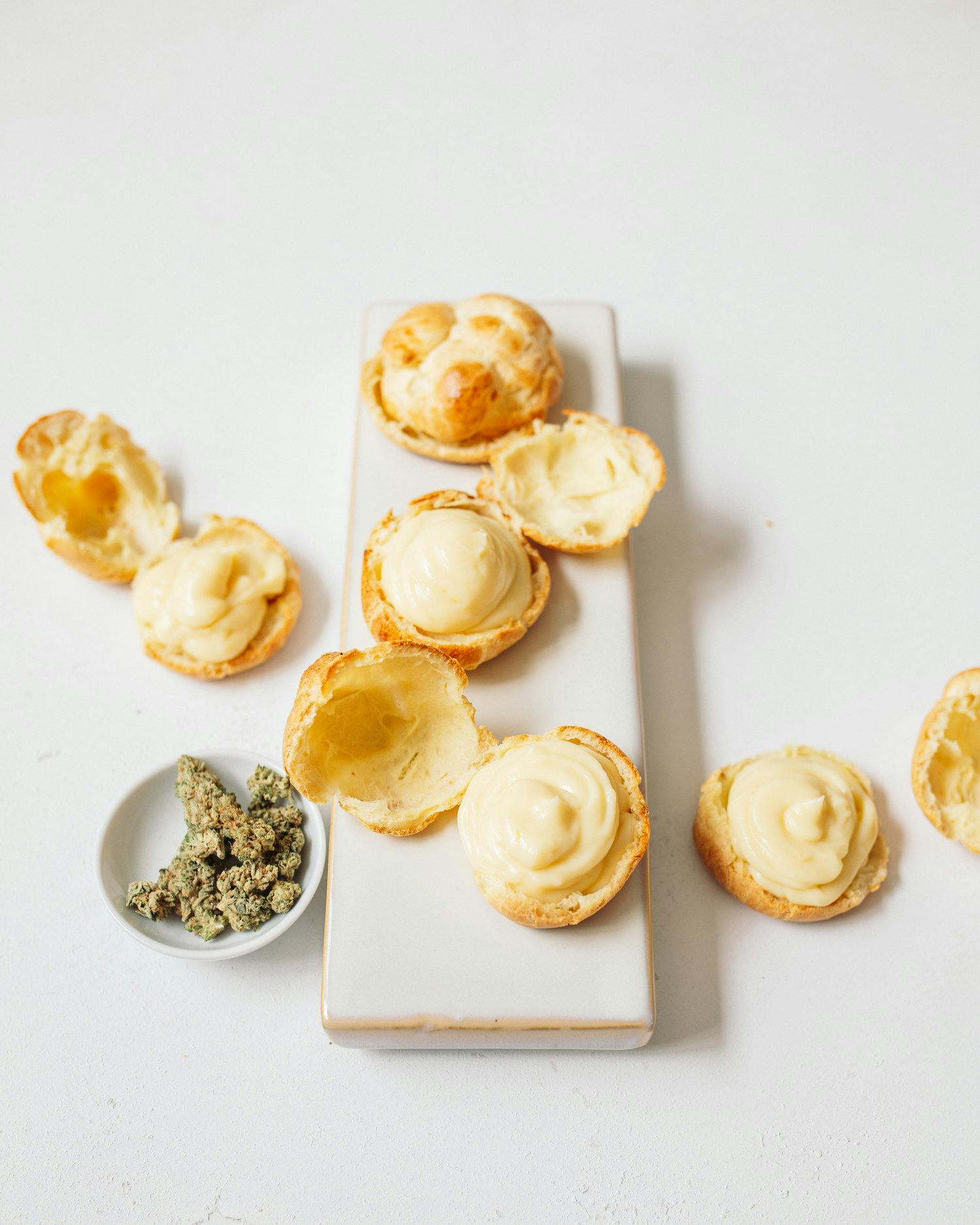 Medicated Lemon Verbena Pastry Cream Filling:
•  2 cups whole milk
•  ½ cup cane sugar, divided
•  1 Tbsp dried lemon verbena, in a tea bag
•  4 large egg yolks
•  ¼ cup cornstarch
•  Zest of 2 Meyer lemons
•  Pinch of kosher salt
•  2 Tbsp cannabis-infused butter (using the Sous Weed method)
•  1 tsp vanilla extract
Cream Filling Prep:
1.  In a medium saucepan, bring milk, ¼ cup sugar, and lemon verbena tea bag to a light boil over medium-heat.
2.  Meanwhile, in a medium sized mixing bowl, whisk together egg yolks, ¼ cup sugar, cornstarch, Meyer lemon zest, and salt.
3.  Once the milk mixture comes to a boil, turn the heat to medium-low, and discard the lemon verbena tea bag.
4.  Begin dropping spoonfuls of the egg mixture slowly into the saucepan, whisking constantly so the eggs do not curdle. Cook for another 1-2 minutes while whisking until the mixture thickens.
5.  Once the mixture thickens into a curd-like consistency, immediately remove from heat and stir in cannabis-infused butter and vanilla. Mix until the butter has fully incorporated into the cream. Strain medicated pastry cream through a fine-mesh sieve into a bowl. Cover with plastic wrap, pressing it directly onto surface of cream. Refrigerate to set for at least 2 hours and up to 2 days.
Pâte à Choux Prep:
1.  Preheat the oven to 400ºF and line two baking sheets with silicone or parchment paper.
2.  Melt butter, water, milk, salt, and sugar in a medium saucepan over medium heat. Bring to a simmer then turn the heat to low.
3.  Add flour and stir for 2 minutes until the mixture is fully incorporated and smooth, making sure the bottom of the saucepan does not burn. Remove from heat and let cool for 5 minutes.
4.  Transfer dough to food processor and add beaten eggs. Save 1 Tbsp of the beaten egg for an egg wash before baking. Pulse until the dough is uniform and shiny. The texture should be thick like cake batter.
5.  Transfer the pastry dough into a piping bag with an 1A tip. You can use immediately or refrigerate for later use.
6.  Sprinkle a little water on each baking sheet for the pastry to rise without drying out.
7.  Pipe 2" mounds approximately 3" apart on the prepared baking sheet. Lightly brush with egg wash. Bake for 20 minutes, then reduce the temperature to 350ºF and bake for another 10-15 minutes until golden brown.
8.  Remove from oven and transfer to a cooling rack. Using a knife, poke a small hole each puff to prevent the puffs from getting soggy from steam. Allow to cool completely.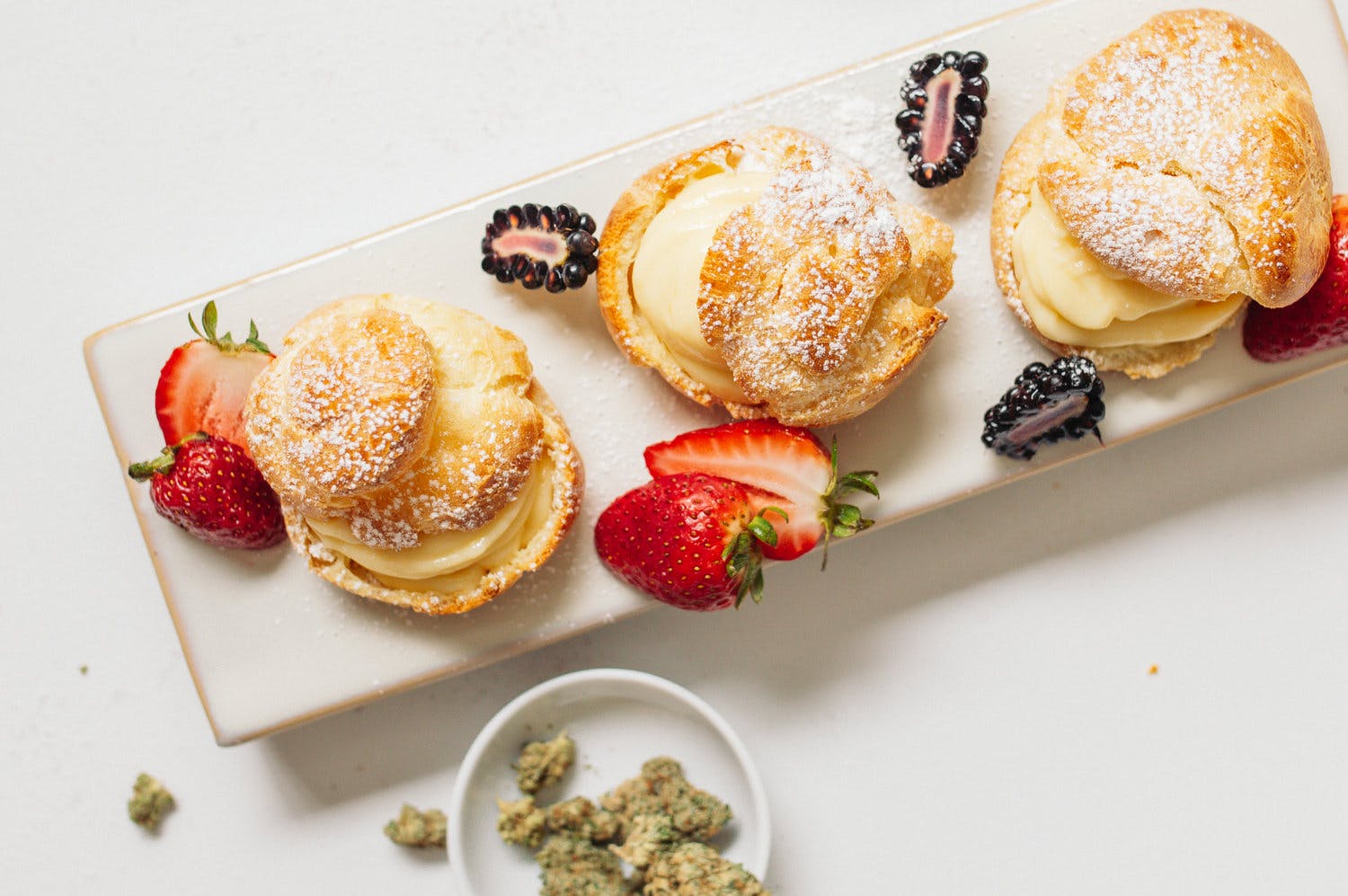 To Assemble:
1a. Poke a hole in the pastry puff and pipe the medicated filling inside.
1b: Alternative assembly - Cut the pastry puff in half and pipe medicated filling on the bottom piece and add chopped berries. Add the top piece back on.
2. Dust confectioner's sugar on top to finish. Enjoy!
*Note: The amount of cannabis-infused butter specified in this recipe is a very loose suggestion. If you'd like to have a lighter dose, substitute the cannabis-infused butter with regular butter.
Dosing homemade edibles can be tricky, so the best way to test for potency is to start with one serving and wait one to two hours, then make an informed decision on whether to consume more. Always dose carefully and listen to your body, and never drive under the influence of cannabis.