The Supreme Authority of Mss Oregon
All Mss Oregon wants to do is her part to level the cannabis playing field
By Sarah Ratliff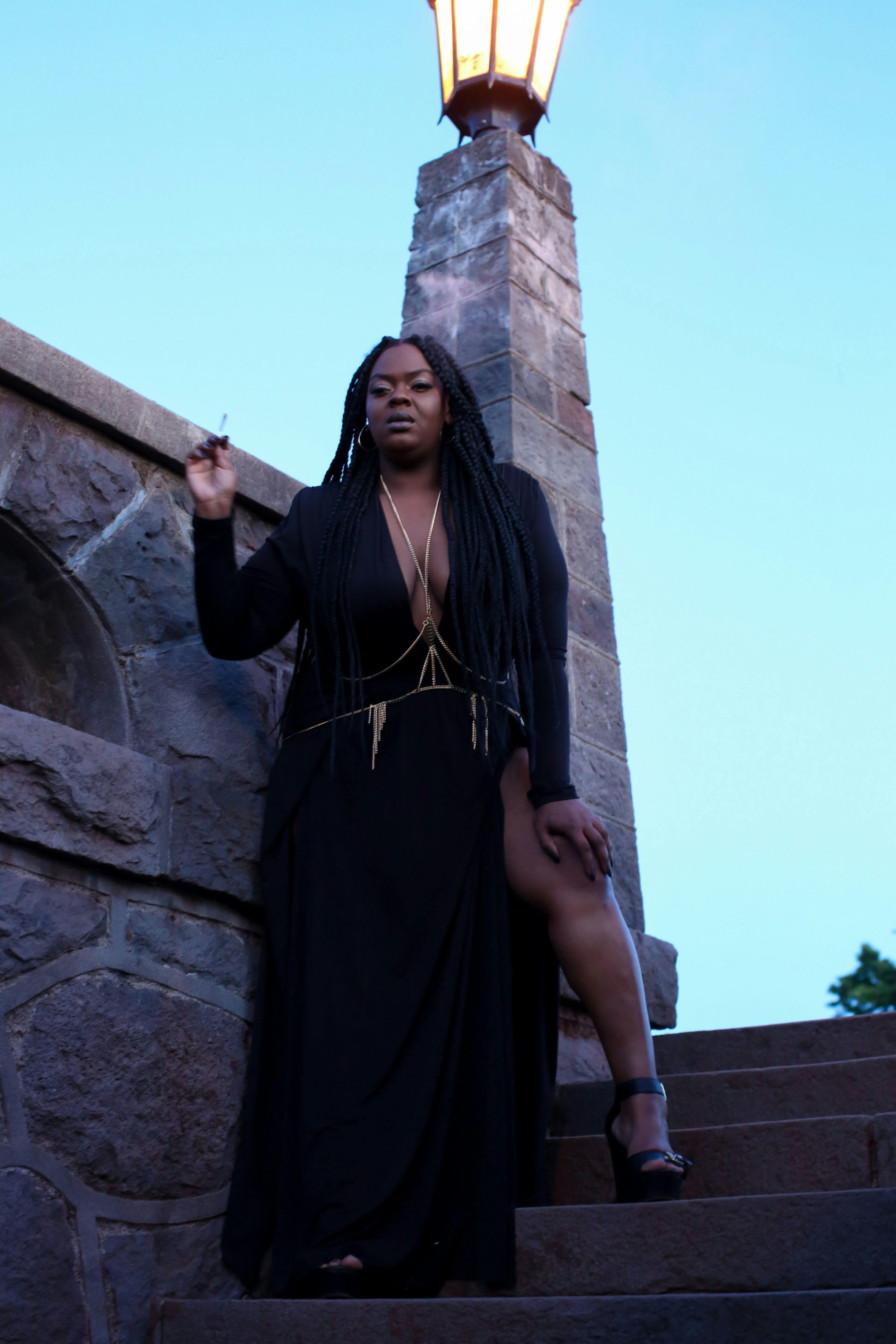 Photo credit: Bria Bronwyn/Dopeafide Creative Agency
According to census data, Black- or African American-owned businesses in the United States comprise 11.4 percent of the total. Given the fact that Black people comprise a mere 13.4 percent of the population, more or less these two figures jibe with one another. Without looking too deeply, one might assume the percentage of Black-owned  businesses in the U.S. tracks across all industries, including the cannabis industry, but that would be an erroneous assumption. 
In 2017, Marijuana Business Daily published their most up-to-date findings from a survey they conducted and found that cannabis businesses owned by people of color are around 19 percent. Of those, only 4.3 percent are Black-owned, while white-owned cannabis businesses comprise 81 percent of the total. The remaining 14.8 percent of cannabis businesses in the U.S. are owned by Asians, LatinX and a catch-all bucket of "others," which includes those of two or more races. 
Mss Oregon, founder and CEO of two Portland, Oregon businesses that she owns jointly with her three kids, says that the root cause of the disparity of Black-owned businesses is both intentional and insidious. "Stating the obvious, we have a serious equity problem in this country. It's that network, you know the one I'm talking about. Ninety-nine percent of us aren't welcomed in. So, the majority of Black and Brown would-be cannabis entrepreneurs are denied access to any investment money out there. And trust me, there's a lot of money being invested in cannabis."
Indeed Mss Oregon is right. Of the $2.6 billion in investment capital raised for start-up companies in the first half of 2020, 99 percent of it went to cannabis ventures in North America. To provide some perspective for how that money is generally used, in 2019, Forbes Magazine reported that to be able to buy into a cannabis dispensary, for example, the purchaser would need a minimum of $3 million. 
This pays for: 
Licensing and application fees
Building permits,
Average cost to build a dispensary
Installation of a security system with a weapons detector
And the required $2 million in proven assets (which includes $500,000 in the applicant's checking account) for operating costs
If Black- and Brown-owned cannabis businesses account for 4.3 percent of the total, using the statistics above as a model and our example of the costs to own a dispensary, we can safely assume that of that $2.57 billion raised, $2.08 billion went to white people, while $112 million went to Black people. Phrased another way: 693 white people received approximately $3 million each in capital funding as compared to just 37 Black people—all amid the backdrop of the Black Lives Matter protests. 
And then we have the issue of inequity within the "justice" system. Let's take, for example, the irony of Michigan legalizing cannabis for both recreational and medicinal use in 2018 and soon after expunging the records of those in jail on low-level cannabis convictions, and compare that with a brother named Michael Thompson, who in 1996 was sentenced to 60 years for selling weed. This means Mr. Thompson was given more time for dealing weed than people get for murder.
While Michigan is poised to bring in $1.5 billion in legal weed sales by the end of 2021, Thompson has repeatedly been denied clemency for a 60-year sentence for his 1996 conviction.
Mr. Thompson's story is far from unique. It's estimated there are 40,000 people still in jail for cannabis convictions. NORML believes Black people are 3.64 times more likely to be arrested for possessing cannabis. 
Mss Oregon's Two Companies: Same Intentions Using Different Methods
All Mss Oregon wants to do is her part to level the playing field. As she phrases it, "Those who are Black and at a lower socioeconomic level are most affected by the War on Drugs. This is why my kids and I started the two companies. 
"We created Diversify Portland to help build a more socially-aware community. We want to be a pathway toward access to the things keeping our people out of becoming self-sufficient in any industry. We are not a cannabis company, but we have created several events/trainings to help with cannabis education." 
Recognizing that Black and Brown people have to continually strive to be the best to even be considered part of the conversation, Diversify Portland provides W.E.E.D. certification. 
This isn't the same as the Marijuana Worker Permit required by the state of Oregon to work as a grower, in manufacturing, at retail stores and companies that sell to growers, manufacturers and retail outlets. 
The W.E.E.D. certification covers: 
Policy
Regulations
Cannabis and hemp education, including the differences between the cannabinoids, as well as what terpenes are and why they're as important as cannabinoids
Dispensary familiarity
Communication skill-building
Social awareness skill-building
A bonus class on up-selling/add-on sales for budtenders
"In non-pandemic times, the National Cannabis Diversity Awareness Convention (NCDAC) is our major event, which is meant to connect people in both the entertainment and cannabis industries with each other. We feel the entertainment industry has targeted Black and LatinX communities in a similar way as the cannabis industry. By creating this assistance, we believe this will impact our country's economic and social growth. This past year we had Freeway Rick Ross as our Keynote speaker and Jack Thriller was our Comedy showcase host. Every Year Fort Knox is our convention host. This is a concert mixed with educational content. We also have family events, such as Diversify Portland Weekend."
(Here's a video of the National Cannabis Diversity Awareness Convention Promo 2019.)
For Mss Oregon, Seeing More Representation is More than Just a Mission Statement
"I get what it's like to come from behind the 8-ball and struggle just to make ends meet. As widely known as I am in Portland, not many people know my backstory, but I think it's time to get it out there. People need to know I'm not just an entrepreneur. For me, it's far more than just a mission statement." 
Through tears of anger and frustration, but also determination, Mss Oregon opened up about who she is and what drives her. 
People assume I make a lot of money off our two ventures. I may have to sell a booth for less than I need to, so I have to do some wheeling, dealing and bartering with the next person to make up for the short sale. Your girl's a cold-ass hustler and I've learned how to make legit legal moves to make things happen. 
Multiply this times the number of booths I have open and, at the end, I haven't made any money. It's an unintentional labor of love. So, while people think I'm making money, this is something that will surprise you: I live in section 8 housing. But for me, section 8 is a step up and I'm in no way embarrassed to admit this. I was born into homelessness and have pretty much always been on food stamps.
Not only was I homeless and living in shelters several times when I was growing up, by the time I was 15, I was selling drugs. My mother was in prison, and someone had to feed the family. So, I'm used to hustling to get our needs met. 
My father was a super flaky character. And that's all I've got to say about that. My mom was on drugs and selling them. When she wasn't in prison, she was very abusive, so my brothers and me got beat a lot. When she was locked up, we lived with her boyfriend who was physically abusive to my brothers. 
My mother was paroled when I was 14 and, just like that, we were homeless again, living in a shelter on 2nd and Burnside. Soon after her parole, my mother got a job at Honey Baked Ham and then got me a job there. I gave all my money to her, but it wasn't enough; we were still homeless. A coworker of my mother's offered to have us live with him and his roommates. They were Mexican, and [living in a] two-bedroom apartment. And yet they gave my family one of those bedrooms, no strings attached. We kept looking for one, but they never wanted more than rent money. There were roaches everywhere, but it beat living in a shelter. I vowed to myself that I'd do anything to keep from being homeless again. 
I had my first born when I was 18—a girl. I met my husband at 19 and was married at 21. Three years into the marriage, he started cheating and beating on me. The first time it happened, for no reason at all, he punched me in the head. It started getting to be a regular thing, so I knew I had to make a decision. I grew up with an abusive mother. I knew I had to break the cycle. One night, I chased him out of the house with a BB gun. I chased him under the train and shot him. I shot him several times. I told him he would never put his hands on me again. 
I went to jail for shooting my husband, but before the judge sentenced me, he told me that he wished more women would stand up for themselves. Even with that, he didn't show me an ounce of leniency. Once out of jail, I have done everything to keep my family of two daughters and son off the streets, with full bellies and in school. We're trying to get off food stamps because that's another area I feel I need to break the cycle. 
A few very positive things came out of my mother's incarceration: she quit using drugs completely and she stopped beating on us. In fact, she's been clean for over 20 years and she is very involved in my life now, which includes both businesses. In many ways she too is breaking the cycle. As proud as I am of myself, I am also really proud of my mother. My younger brother is also involved in the businesses. Every year he sponsors a booth and sometimes more. Together, we're showing my kids that we can rise above the circumstances we're born into, and strive for better.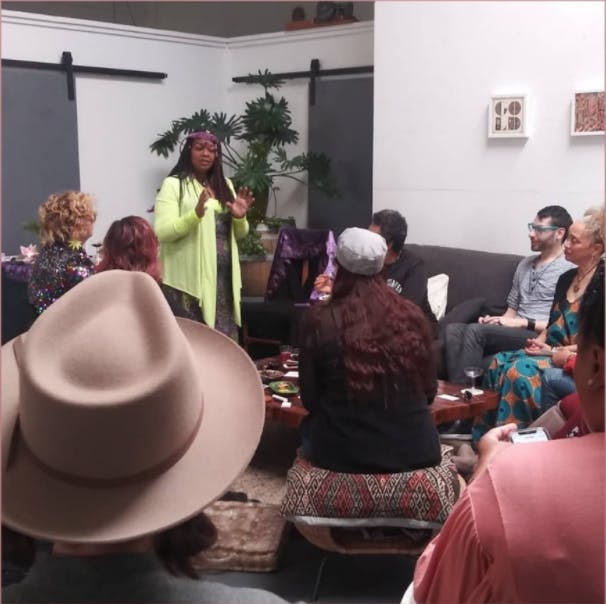 Tamara Walker (Mss Oregon's mother) at a pre-event during the NCDAC. Photo credit: Mss Oregon
I've sold drugs, I've been homeless, at one time I owned an escort service, and I've been in jail. Today I'm a parent of three kids. Diversify Portland and the National Cannabis Diversity Awareness Convention keep me in touch with who I am and where I come from. Having three kids means I have to break the cycle. My goal with the NCDAC is to grow it so big I will attract bigger names who come with more money. I don't have huge dreams, but one of them includes buying a house for my mother and another for my kids and me, and providing even more stability for my family. I also want to continue raising awareness about the discrepancy between my brothers and sisters rotting in jail for possessing or even selling weed, while white folks continue to be poster children for legal weed. I don't ask for a lot—but apparently getting there requires a lot. 
If you would like to help Diversify Portland and the National Cannabis Diversity Awareness Convention, please visit her Instagram fundraiser.
______________
Learn more about the writer, Sarah Ratliff, through our Meet The Writers blog post here