Your Complete Guide to THC Gummies
Everything You've Always Wanted to Know about Weed Gummies (and Why Not All Are Created the Same)
Cannabis gummies are some of the most popular edibles on the market today. It's easy to see why, with their fun, fruity flavors and small size, they're perfect for popping in your mouth alone or with friends. They're more discreet than flower or a vape, and it's easy to get just the dose you want, every time. Want to know more about what goes into THC gummies besides flavor and fun? Keep reading because your friends at Caliva have put together the ultimate guide to your new, chewy friends, THC gummies.
This Guide to THC Gummies is designed to help answer your questions about these small, but delicious, edibles. We've separated this blog post into sections, so here's a quick overview of what you can expect to find:  
What THC Gummies Are And How You Can Get To Know Them Better
Types Of Marijuana Gummies Available To Try
Why THC Gummies Are So Popular Right Now
Which Kinds Of Cannabis Gummies Are Right For You?
Our Recommendations
THC Gummies Are The Easiest Way To Taste The Rainbow
Cherry, passionfruit, sour apple, and even pear—these are just a few of the THC gummy flavors available in dispensaries across the country. Although they can come in many shapes—such as rings, nickels, or drops—and sport all kinds of textures and colors, the goal of all THC gummies is the same—a fun way to enjoy cannabis at your own pace. 
If you've never had a THC gummy before, it's always a good idea to start slowly, that way you can get to know what your response will be. Everyone responds differently to the dosage of THC in gummies, so remember to be aware of how they affect your endocannabinoid system. Because everybody is different, it's hard to determine your exact response without trying them out for yourself. Your onset time (how long it takes before you'll feel the effects of the gummy) can vary from 30 minutes up to 2 hours. Make sure not to take any additional ones until you've waited the full 2 hours. We always recommend starting small because you can always add another gummy portion to enhance your experience should you need to.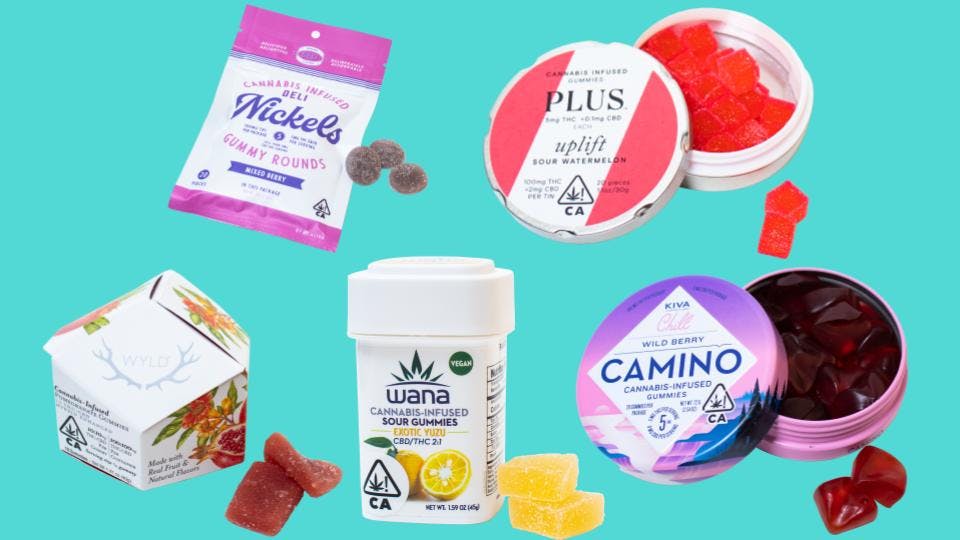 There are also external factors that should be taken into consideration before you try out THC gummies:
Your usage history and THC tolerance
How well/not well your body absorbs items in your gastrointestinal system 
Depending on these factors, you might want to start your gummy experience with low amounts of THC. We suggest splitting a 5mg serving in half for a 2.5mg micro-dose and gradually go up from there. However, it is also important to point out that not all cannabis companies create their THC gummies the same. Some prefer one process over the other to get THC into the gummy. Want to know more? Let's take a look at how THC is typically infused into gummies, and which ways you might like to enjoy their expected effects!
What Kind of Gummies Are Out There? All Kinds!
Gummies with THC Distillate
Many gummy manufacturers choose to go with THC distillate because it is a great way to ensure that all the batches of gummies will garner similar effects. Want to get to the point with a flavor-forward gummy experience? Then a THC distillate gummy can be your go-to that will give you exactly what you're looking for each time. The THC distillate is highly refined and mostly tasteless and allows for the fruity flavor and taste of the gummy to shine. This is what gummies infused with THC are ideal for. There's no grassy flavor. Instead, the yummy flavor is left intact, and you always know what type of experience you're getting. 
However, with distillate THC, you might find yourself experiencing a one-note effect since you're only using one cannabinoid. The terpenes are typically taken out with this method, which is why there is no additional entourage effect. This can leave your high feeling wanting, as terpenes allow you to have a more nuanced experience. Not sure if these are right for you? We recommended taking it low and slow. If the THC distillate is taken in a higher dose than you're accustomed to, it can hit you harder than you might be expecting. This is because there are no other cannabinoids or terpenes to help balance out the experience. 
To try and avoid the one-note effect and create an experience closer to the one you have with full-spectrum oil, gummies are often made with distillate that adds terpenes—whether cannabis or botanically derived—back into the gummy along with the THC distillate. This is commonly done to help guide your high toward a more chill, relaxing, or uplifting experience. While closer to the experience of natural terpenes found in gummies made with full-spectrum oil, your experience with gummies made with distillate and terpenes put back in will depend on what terpenes are added.
Recommended: 
$18/container
5mg THC per gummy
$18/container
5mg THC per gummy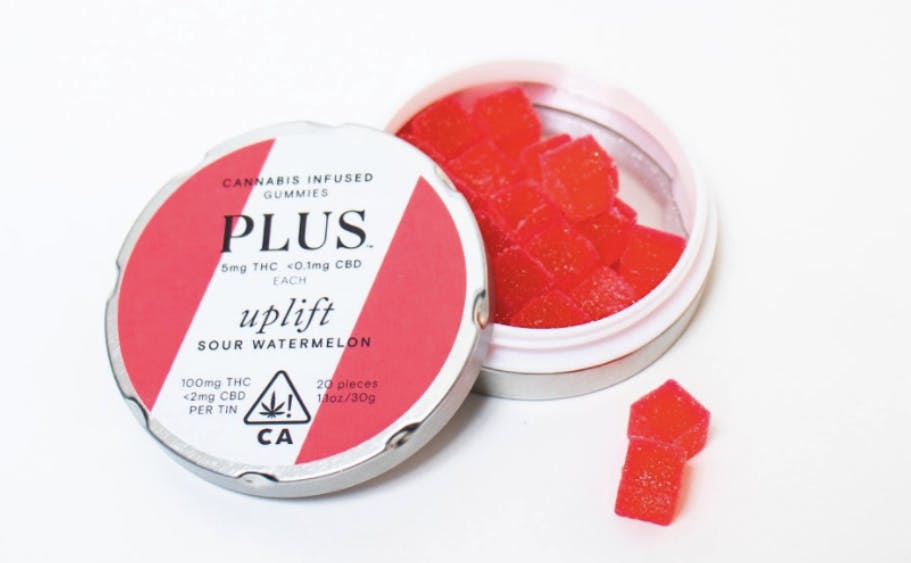 Full-Spectrum Cannabis Oil Gummies
Some cannabis companies prefer to use full-spectrum cannabis oil to get THC content into their gummies. These kinds of gummies include the terpenes from the original strain species (Indica, Sativa, Hybrid) which gives them a whole new set of cues to play with. If you're looking for a THC experience that allows you to choose from a spectrum of different experiences(chipper, chill, or energized) then these are the kind of gummies you want to be on your team. When the flower's natural terpenes and other cannabinoids are kept in the gummy alongside the THC, you can expect to encounter the entourage effect. #sweet.
Like the high you get after using flower? Then you might be familiar with this entourage effect already, since this method keeps the natural cannabis terpenes of the flower strain. Terpenes can steer your mindset toward uplifting or relaxing and can give you a much more nuanced and balanced cannabis high. Although many people enjoy this type of experience, it can be hard to consistently replicate in each batch of gummies. This is why you want to pay particular attention to the cannabis company making your THC gummies. 
A brand like Caliva is involved with growing and cultivating cannabis flower—and uses full-spectrum cannabis oil in our marijuana gummies— which means there's a better chance the effects will be more reliable from one gummy pouch to another. 
When plant care and oil extraction are a part of the process, then you can expect a lot of time and energy is taken to ensure the THC gummies are getting their strain and terpene profiles as consistent as possible.
Recommended: Deli Nickels Mixed Berry
$15/pouch
5mg THC per gummy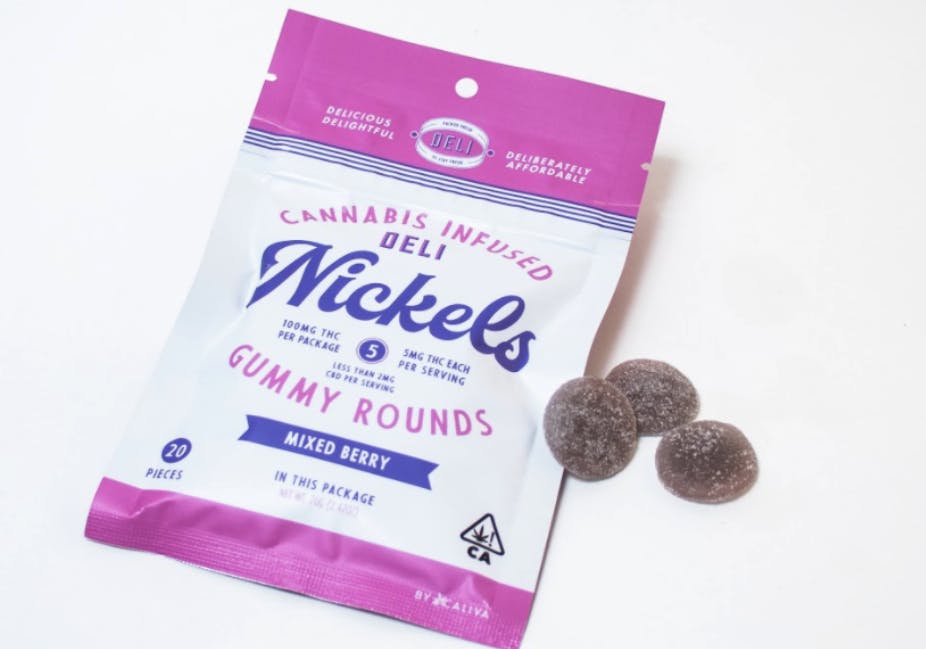 Gummies with THC and CBD Ratios
If you're one of the many people who are interested in THC gummies for more than just the fun stuff, then you'll want to check out the gummies that pack a one-two punch: CBD gummies with THC. In these gummies, THC and CBD work in tandem to help you chill or recover without the overwhelming effect of a THC high. However, make sure you pay close attention to the ratio of CBD to THC in your gummies. The higher the ratio of CBD to THC (say a ratio of 4:1) will virtually eliminate the chance of an intoxicating high and instead allow the qualities of the CBD to come through. 
In addition to the helpful effects that CBD can bring to a gummy, in lower doses it can enhance your high. Because many THC distillate-only gummies can feel one-note, you might want to try out a higher THC to CBD ratio (1:1 CBD and THC), giving you THC effects with the enhanced profile of the additional cannabinoids (CBD). You might find this experience more balanced than the THC distillate alone, which might be a good idea for lower-dose users. The extra cannabinoids in these types of gummies allow you to choose what kind of adventure you'd like to go on—whether that's chilling or getting your groove on, there's a THC/CBD gummy that can give you an amazing experience.
Recommended: Wyld Gummies Pomegranate 1:1
$20/pouch
10mg THC/10mg CBD 
$20/pouch
10mg CBD/1mg THC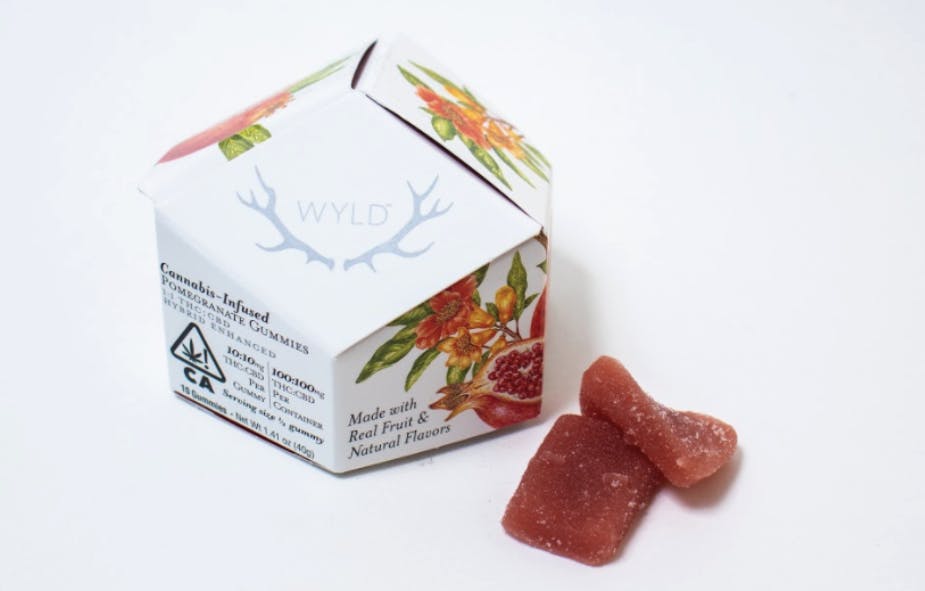 Why Are Gummy Edibles So Popular? The Yum Factor. (Among Other Reasons).
All the THC gummies, all the time
So where did this (sudden?) surge of all things weed gummies come from? One of the major reasons that THC gummies keep proving to be so popular is because who doesn't love a sweet treat! No matter their flavor or shape, they always seem to be just the right size for munching. As cannabis markets continue to expand, consumers like yourself are looking for fresh, fun, and potent new ways to enjoy THC and CBD products. Enter, the gummy.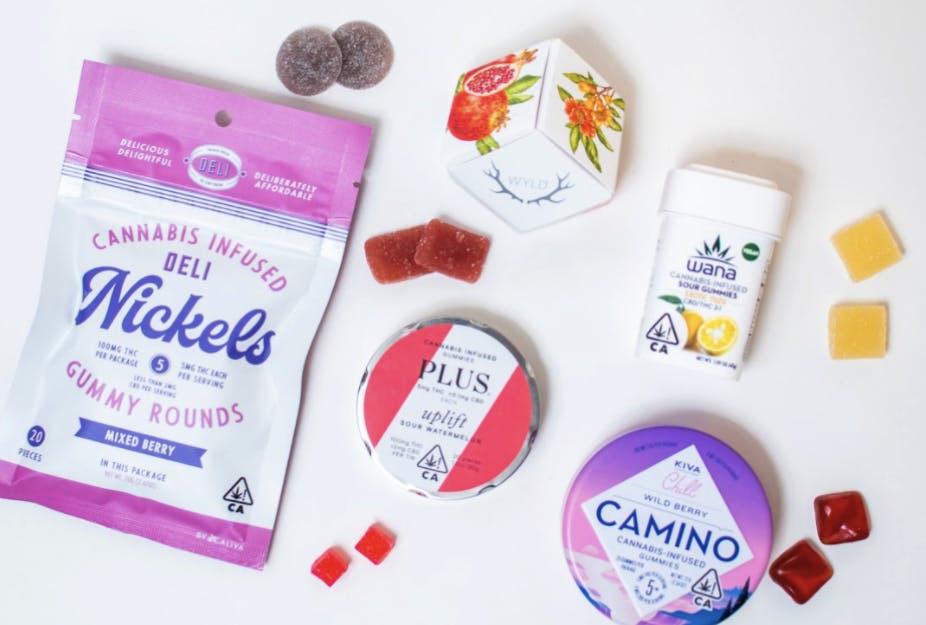 Gummies are liked so well because they are small, flavorful, and discreet—with no need to worry about lingering aromas! Their pouches or containers are easily packable into a bag, purse, or even your pocket. This makes them an incredibly convenient option. That, and the fact that they're just plain delish. How can you go wrong with a pop of flavor enhanced by THC or CBD? Besides the yum factor, gummies are all pre-measured for individual servings. That way you can take as little or as much as you like. Their easy portability makes them a very popular option to enjoy cannabis wherever you are—whether that happens to be hanging out with friends, at the beach or poolside, or even out for a nice evening walk.
THC gummies are a super-affordable option
Another cool thing about these fruity THC gummies is they're one of the most affordable options available in the cannabis market. This means you're really getting a bang for your buck. Caliva's Deli Nickels, Kiva Camino Gummies, Wana Vegan Gummies all feature 100mg total cannabis per bag and cost between $15-$20. That measures out to a lot of fun for a small price tag.
What gummies are right for you? Depends on the kind of high you're after
The rise of THC gummies can also be attributed to the fact that there are different levels of THC (or THC gummies with CBD) to choose from. You can start out with a microdose of 2.5mg or lower, which is perfect if you're looking to take the edge off and chill out a bit. Lower amounts of THC can also help you find increased focus or creativity. Once you know the amount of THC in your gummy, you can adjust your dosing appropriately. Looking for a more robust high? Dose out your marijuana gummies to get the uplifting or relaxing experience you want. 
Need some help with pain or anxiety? Include some CBD in your gummies. Gummies with CBD have proven to be some of the most sought-after gummy products in the cannabis market, due to their calming and soothing effects on mind and body. Gummies before bedtime can not only help you fall into a restful sleep, but they can help alleviate other chronic health issues such as insomnia, anxiety, and painful arthritis. All that from a little chewy gummy? You bet.
Depending on the type of experience you're after, using gummies is a nice way to feel the effects more slowly than you would with perhaps a flower or a vape, since they enter your bloodstream through the GI tract. But, that also means they can last longer, giving you more time to enjoy yourself or drift off into a pleasant sleep. Knowing this, it's easy to see why CBD and THC gummies have been dominating the edibles market in recent years. Gummies offer you the chance to pick and choose how you want to experience all the fun (and help) THC and CBD can offer.
A quickie side-by-side comparison of CBD and THC gummies available at Caliva
Looking for the best in weed gummies? You've come to the right place. Below are our recommendations based on price, quantity, flavors, texture and type of gummy.
Our cannabis gummies recommendations: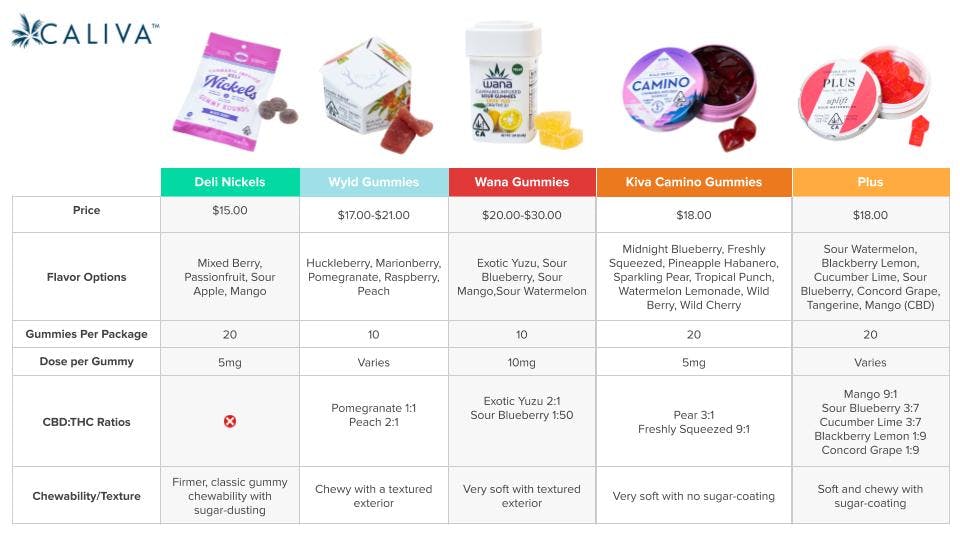 Price. You can't beat the price of $15.00 for 20 Deli Nickels edibles. And with four flavor options to choose from, you won't break the bank finding your favorite way to relax or enhance your day!
Quantity. To get the most bang for your buck, try the Deli Nickels. With 20 pieces per pouch for $15.00, each 5mg nickel is the perfect way to find your happiness.
Flavor options. Kiva Camino gummies come in eight delicious varieties, sure to make your day (or night)—no matter what you've got planned. Consider trying Pineapple Habanero for an energized lift or chill out with the combination of THC and CBD in Freshly Squeezed. These THC gummies are all made with natural flavors, so the only hard part might be deciding which one to choose.
THC level. It depends on what you're looking for in terms of experience. This selection of gummies come in either 5mg THC or 10mg THC (CBD and THC combinations can be different) in each gummy. But don't forget you can always cut your gummy in half for a 2.5mg microdose or split a 10mg THC gummy into a 5mg half dose. That's what's great about gummies, it's your call!
Distillate pick. Wana Gummies are the go-to edible for gummies that are infused with strain-specific distillates enhanced with naturally occurring terpenes. Depending whether you choose a Sativa, Indica, CBD, or Hybrid Distillate, you can have an energized day, a chill evening, or even a night of good sleep. 
Full-spectrum oil pick. Deli Nickels are a good choice for a gummy that uses full-spectrum cannabis oil with natural terpene profiles made to give you a chipper experience, or a relaxed one, depending on what you're in the mood for.
Vegan. Looking for vegan THC gummies? Wana has your back. All of their flavorful gummies are vegan and gluten-free.
Contains THC and CBD. Turn to Wyld Gummies if you're looking for a cannabis profile that includes the right amount of THC and CBD. Their Peach and Pomegranate flavors have the right amount of CBD added to balance the THC, whether you're going on your next adventure, or are looking to get those creative juices flowing.
Chewability/texture. For a firmer texture, you can't go wrong with the Deli Nickels. Prefer something a little more similar to a Sour Patch Kid? You'll want to go with Plus Gummies.
Shop all of Caliva's edibles in-store or for delivery or pick up and choose from all kinds of flavorful THC and CBD gummy options. You can thank us later!