These Light And Airy Sous Weed Chocolate-Dipped Peppermint Meringues Are A Perfect Holiday Vibe
This recipe is a collaboration between Caliva and Sous Weed. Founded in 2015 by Monica Lo, Sous Weed is dedicated to using cannabis as a superfood ingredient in the home kitchen.
By Monica Lo
With the help of my buds at Caliva, I'm finally getting into the spirit of the holidaze with this light and airy Chocolate-Dipped Peppermint Meringue collaboration. Each cookie is dipped in a cannabis-infused chocolate made with Deli's Rocket OG that I've infused in coconut oil using the sous vide method. They're festive, low-dose treats that you won't feel too guilty snacking on.
Toss them in a gift box or mason jar and wrap them up for the perfect gift for friends and family. Pro tip: Don't forget to label your cannabis edibles with dosing recommendations this holiday season!
Wishing you all a joyous and reflective holiday season. Please stay safe and healthy!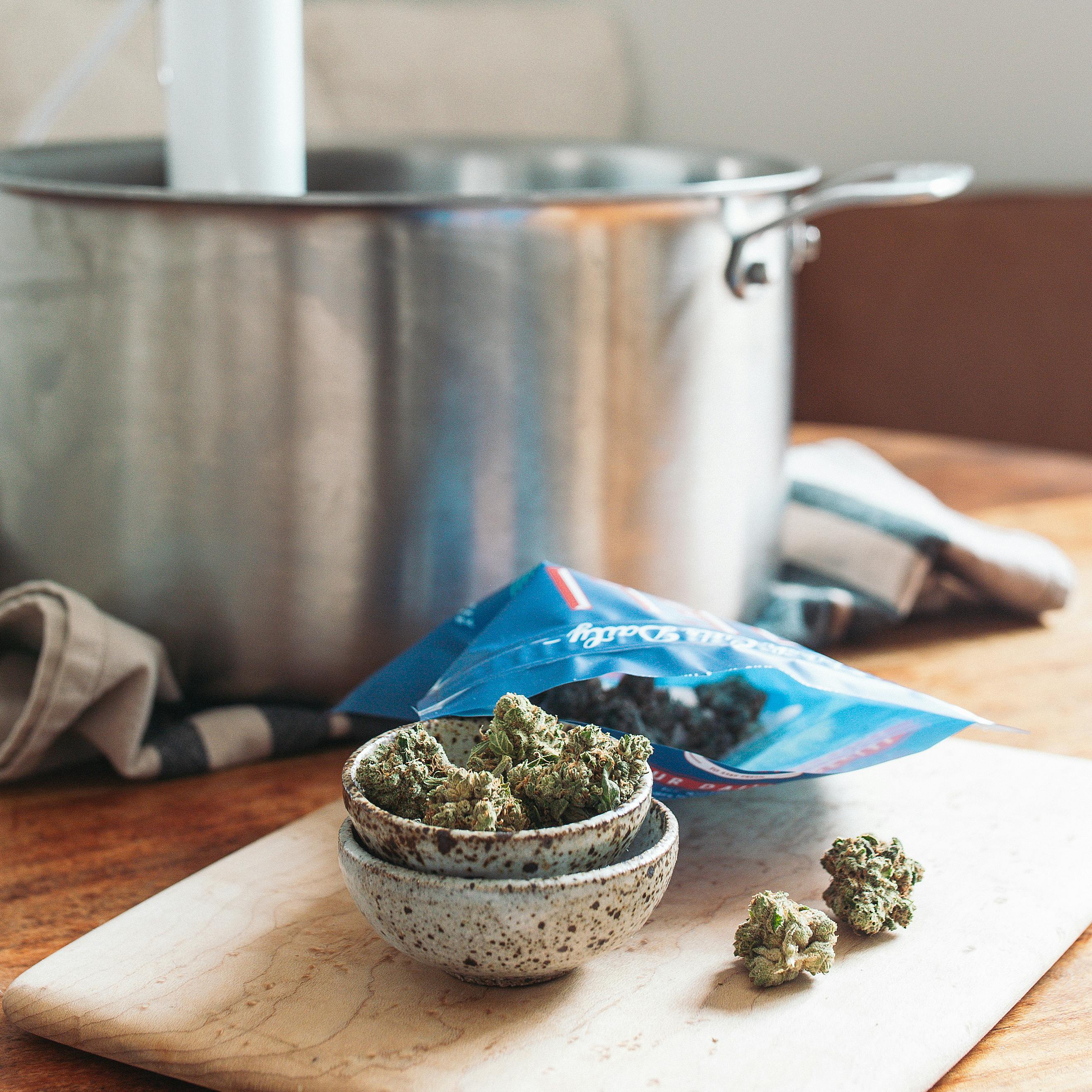 Sous Weed Chocolate-Dipped Peppermint Meringues
Makes about 40 meringues
Strain: Deli's Rocket OG (26.66% THC)
Dosage: Using the Sous Weed Coconut Oil Recipe and Deli's Rocket OG, we can estimate that each meringue is about 3mg per piece
Serving size: For beginners, start with one meringue and wait up to an hour for full effects before consuming more.
Ingredients:
• 3 large egg whites, room temperature
• 1/4 tsp cream of tartar
• Pinch of fine sea salt
• 1/2 cup granulated sugar
• 1/4 tsp vanilla extract
• 1/4 tsp peppermint extract
• Red food coloring
Infused Dipping Chocolate
• 1 cup semi-sweet chocolate chips
• 1 Tbsp Sous Weed coconut oil* (I used Rocket OG from Deli, but any of their delightfully affordable strains would work)
• Sprinkles, optional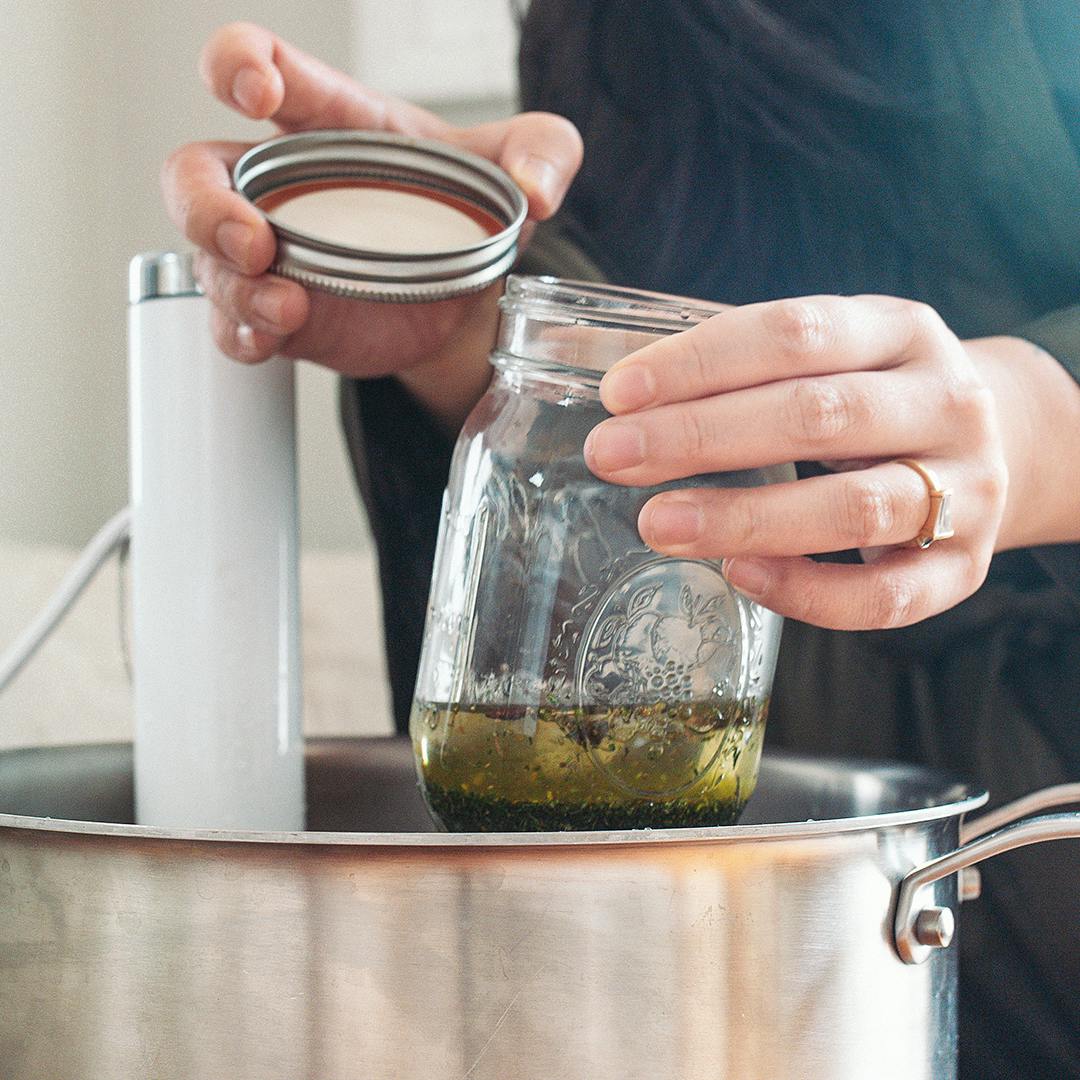 1. Preheat oven to 225ºF and line two baking sheets with parchment paper or silicone mats. Set aside.
2. Combine room temperature egg whites, cream of tartar, and salt in a large, clean mixing bowl.
3. Using an electric or stand mixer, beat on low until the egg whites form soft peaks.
4. Then increase the speed to high. Add the sugar in 1 tablespoon increments, beating until sugar is fully incorporated. The mixture should increase in volume until stiff peaks have formed.
5. Whisk in vanilla and peppermint extract.
6. Fit a large piping bag with a star tip of choice and draw 4 long, vertical stripes of red food dye inside the bag using a paintbrush or cotton swab Then fill the piping bag with meringue and pipe 1 1/2-inch diameter mounds onto prepared baking sheet 1-inch apart.
7. Bake for 1 hour in preheated oven. Then turn the oven off and leave the door closed. The residual heat will continue to dry the meringues out. Allow them to completely dry and cool inside the oven for an additional 2 hours or more.
8. Melt the chocolate chips and Sous Weed coconut oil in a microwave-safe bowl for 2 minutes on 50% power. Stir until smooth.
9. Prepare a baking sheet or platter with wax paper. Dip the bottoms of the meringues in the cannabis-infused chocolate and add sprinkles. Allow the chocolate to harden before sharing with loved ones.
*Note: The amount of cannabis oil specified in this recipe is a loose suggestion; the actual amount you use should be modified based on the strength of your oil and the potency you desire. Always dose carefully and listen to your body, and never drive under the influence of cannabis.