Make This Sour Diesel Lemon Kush Barbecue Pork Roast For Your Quarantine Holiday Feast
This recipe is a collaboration between Caliva and Nkechi Ahaiwe. Nkechi is a food blogger and chef born and raised in South Central, Los Angeles. She fell in love with cooking and baking while watching her grandma make authentic Nigerian dishes growing up. Nkechi is a huge advocate of eating whatever you want in moderation because life is too short to be counting calories!
Sour Diesel Lemon Kush Infused BBQ Pork Loin Roast and Jasmine Rice with Vegetable Pilaf
By Nkechi Ahaiwe
My inspiration behind this recipe comes from me wanting to enjoy the holidays after a crazy long year. I wanted to create a dish that was creative, elegant and fun to make! I infused my jasmine rice pilaf with homemade cannabis butter made from Caliva's Sour Diesel Lemon Kush. Adding the butter to this dish amplified the incredible flavors of the cannabis flower! The process I used to make the cannabis butter was simple, straight forward and odorless. With the Pork Loin Roast, I made my own chocolate barbecue sauce with Chill's cannabis-infused milk and dark chocolate bars to glaze the roast. The sauce has a savory, spicy and sweet flavor all on its own.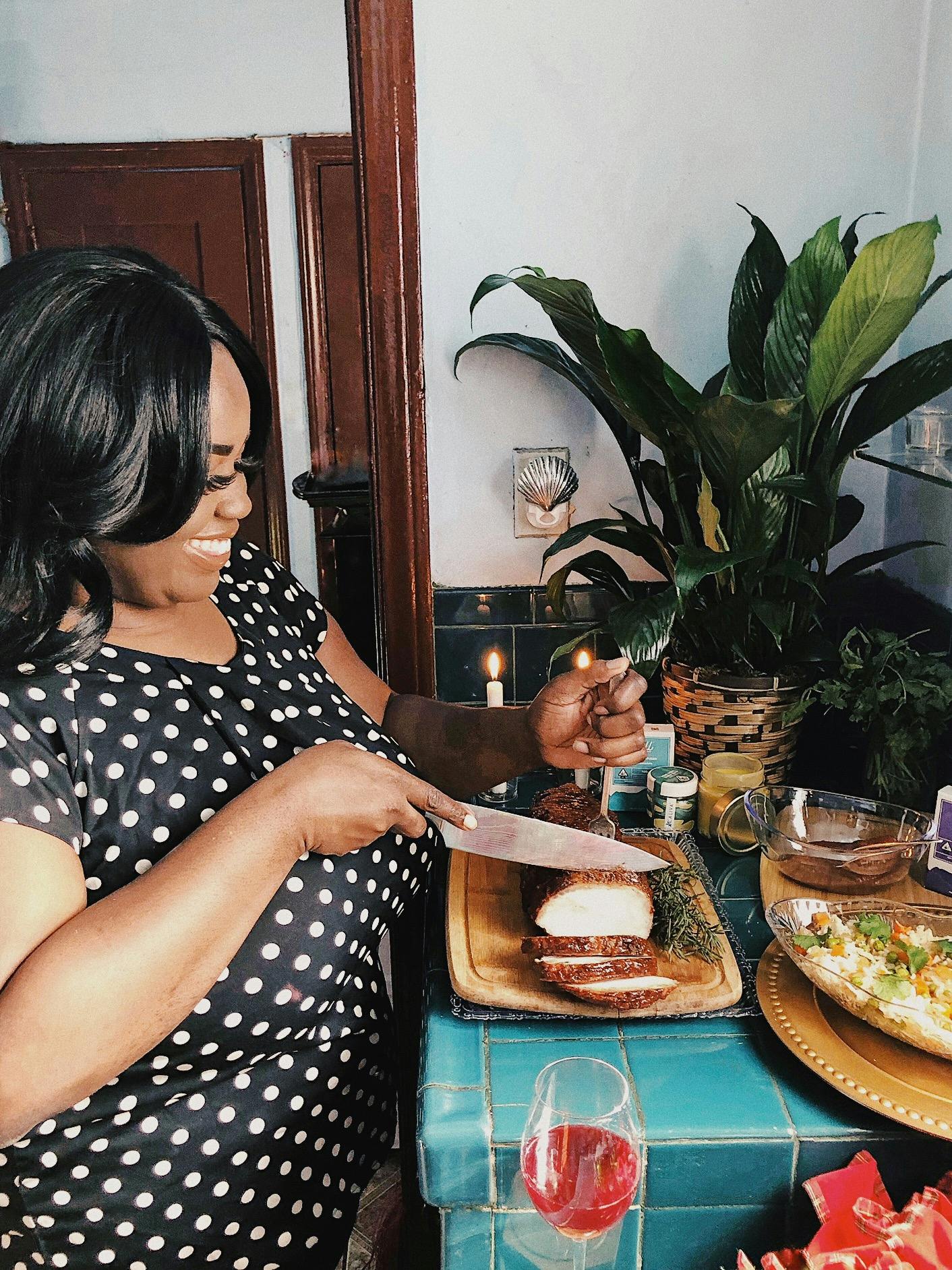 Ingredients:
THC Infused Chocolate BBQ Sauce
• 1 cup Tomato Sauce
• 1/4 cup Tomato Paste
• 3 1/2 tablespoons Soy Sauce
• 4 tablespoons Worcestershire sauce
• 1/4 cup Brown Sugar [Light]
• 4 pieces Chill Cannabis Milk Chocolate [10mg THC per piece]
• 1 bar Chill Cannabis Dark Chocolate [100mg THC per bar]
• 1 teaspoon Liquid Smoke
• 1 teaspoon Paprika
• 1 1/2 teaspoon Garlic Powder
• 1 1/2 teaspoon Onion Powder
• 1/2 teaspoon Ginger
• 1/2 teaspoon Salt
• 1/2 teaspoon Cayenne Pepper
Pork Loin Roast and Dry Rub
• 4-5 lbs Pork Loin Roast
• 1 tablespoon Garlic Powder
• 1 tablespoon Onion Powder
• 1 teaspoon of Thyme
• 1 1/2 teaspoon Olive Oil
• 1 tablespoon Grounded Black Pepper
• 1 tablespoon Salt
• 3 springs of Rosemary
Sour Diesel Lemon Kush Jasmine Rice Pilaf
• 3 teaspoons Sour Diesel Lemon Kush Cannabis Butter (follow our cannabutter recipe here)
• 2 cups Jasmine Rice
• 4 teaspoons Olive Oil
• 1 cup White Onions [diced]
• 1 cup Frozen Peas and Carrots
• 4 teaspoons Chicken Bouillon
• 3 1/2 cups Water
• 1/2 teaspoon Salt
• 1/2 teaspoon Grounded Black Pepper
• 1 cup Cilantro [de-stemmed]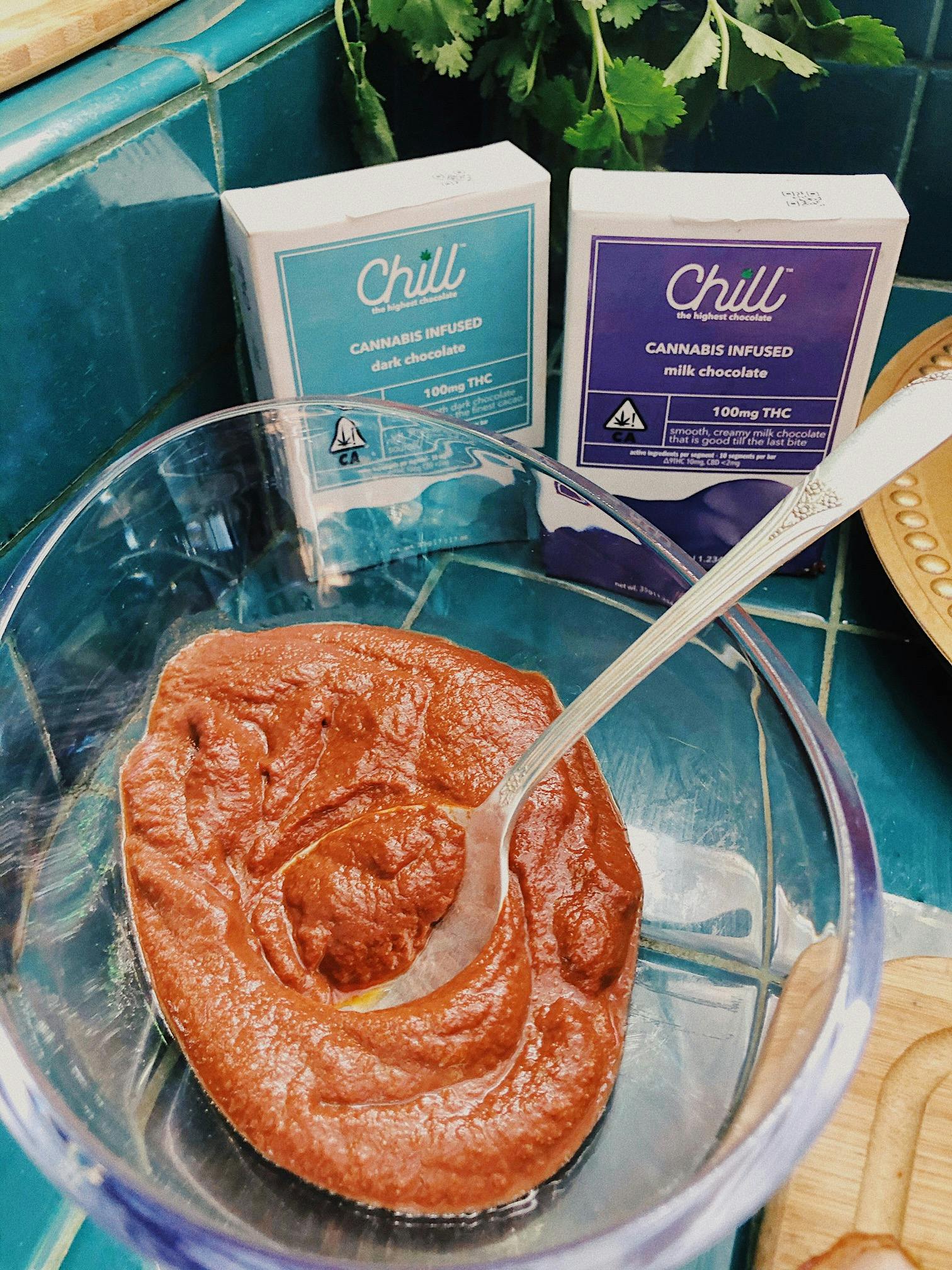 Directions:
Chocolate Barbecue Pork Loin Roast
With a paper towel, pat dry the pork loin and tie it using some kitchen twine. (learn how-to tie a roast here) In a small bowl, combine ingredients for the dry rub (except rosemary). Rub the mixture evenly on both sides of the roast, and insert the rosemary springs securely underneath the twine.
Preheat oven to 400 degrees. Place pork loin inside a roasting pan and bake for 30 minutes. Flip the loin and continue baking for 20-30 minutes until internal temperature reaches 145 degrees.
While the pork loin is roasting, combine all ingredients for the chocolate barbecue sauce in a saucepan and simmer on low heat. Gently whisk sauce continuously until combined and set aside.
Remove the roast from the oven and set oven to broil. Brush the chocolate barbecue sauce over the top of the pork loin evenly, and broil on high for 2 minutes to allow for the sauce to caramelize.
Allow the roast to rest for 10 minutes and slice into 1/3" pieces. Garnish with fresh rosemary and extra sauce if desired.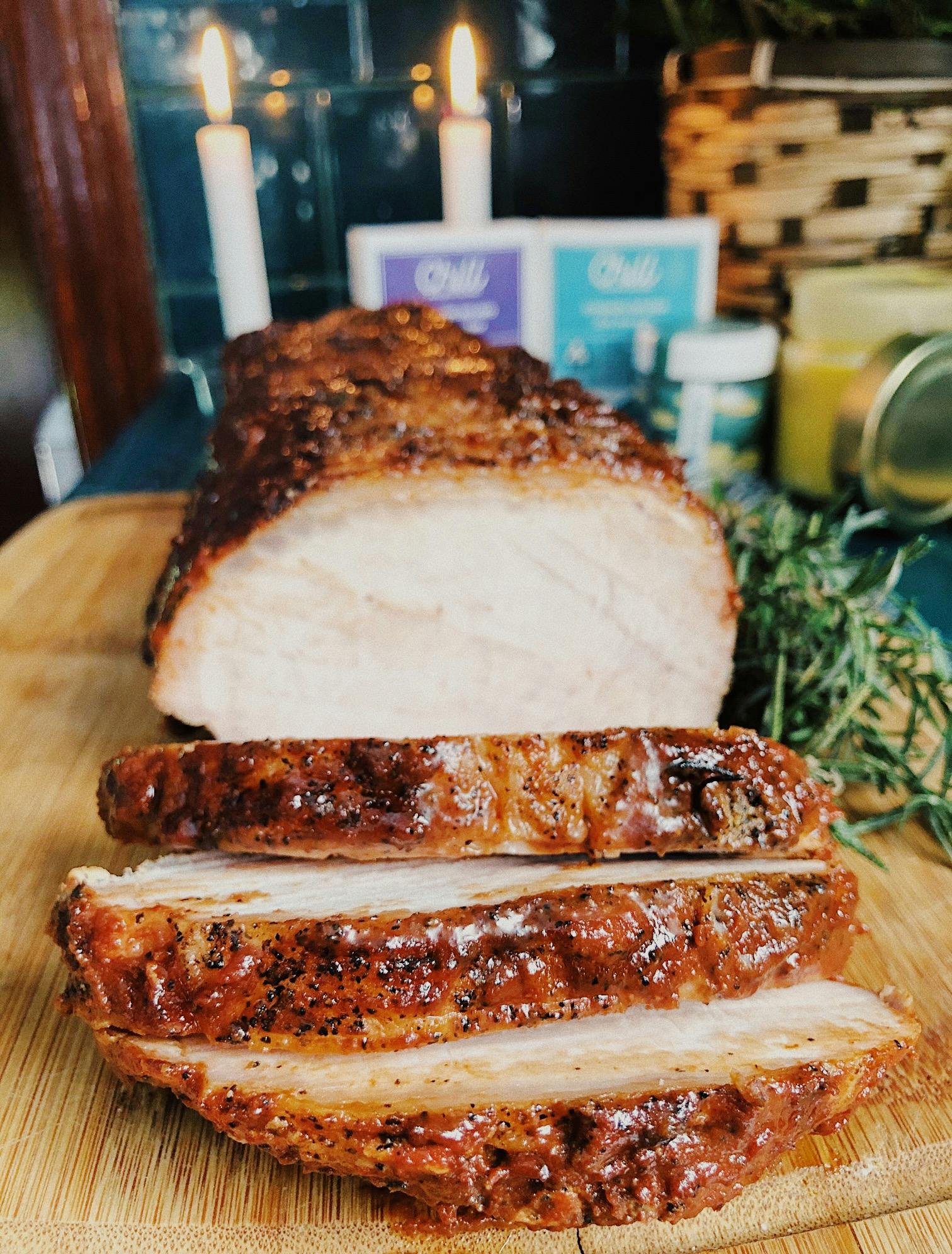 Sour Diesel Lemon Kush Jasmine Rice Pilaf
Heat the olive oil in a medium saucepan over medium heat. Add the onion, carrots, and peas to the pan and cook, stirring occasionally, for 5 minutes.
Add the rice and chicken bouillon and continue stirring for 3-4 minutes. Add the water, salt and black pepper and reduce heat to a simmer, cover with lid and cook for 20 minutes.
Remove from heat and let sit for 5 minutes. Remove lid and stir in the Sour Diesel Lemon Kush cannabis butter until well combined. Season to taste if necessary and garnish with cilantro.