OUR FAVORITE GUMMIES OF 2019
Meet Camino Gummies - the latest addition to KIVA's delectable confections family. The name Camino was inspired by the historic El Camino Real, the 600 mile California road that connects some of the most beautiful and inspiring landscapes in the state. Camino's four flavors are designed to transport you to a specific location and put you in a "California State of Mind."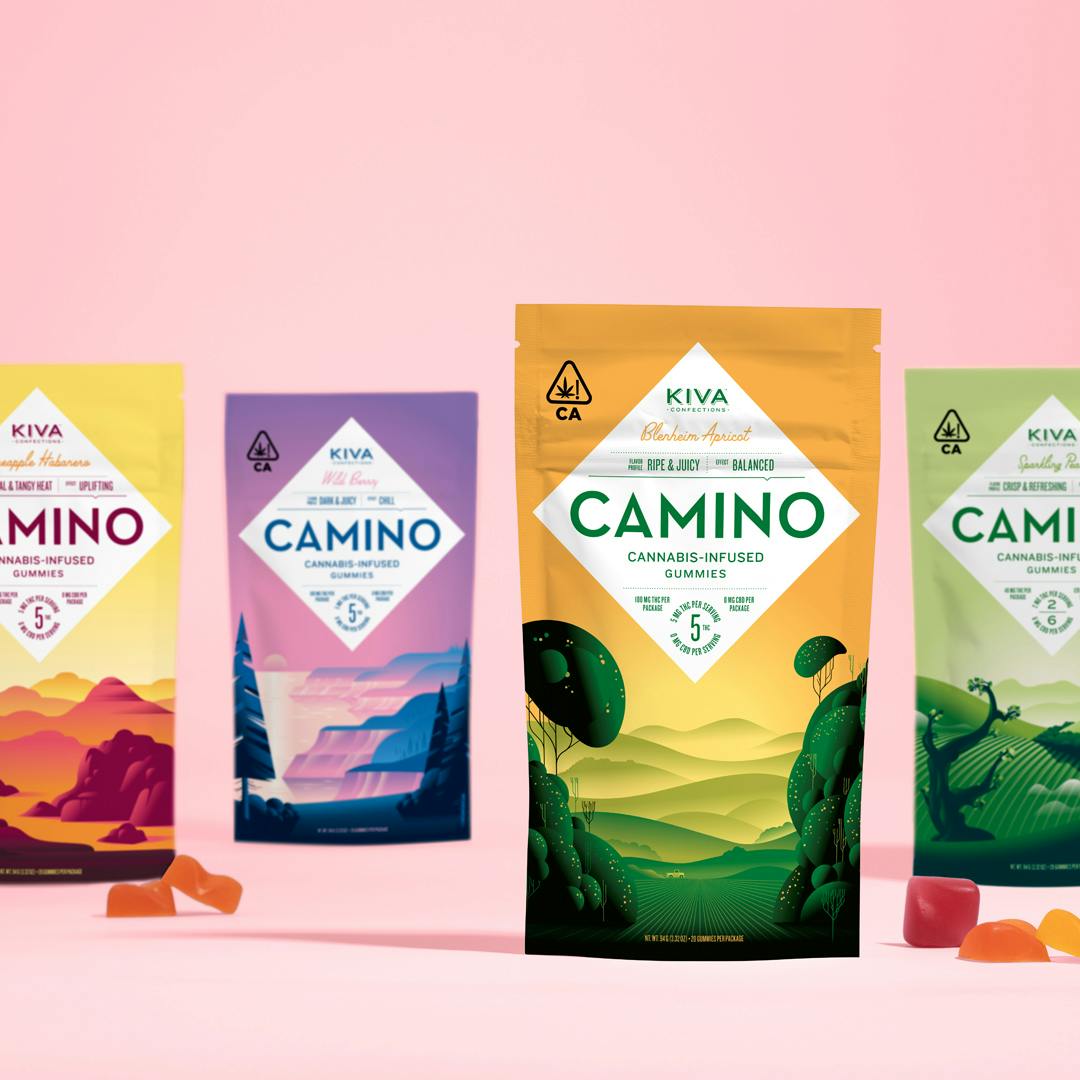 Each Camino gummy combines modest dose combinations of THC, CBD, and a range of carefully curated terpenes to produce a tailored cannabis experience like no other on the market. Camino was thoughtfully developed over a 2+ year period to ensure a great tasting, high quality edible that delivers the intended effect - every time. 
In order to dial in the desired effects, KIVA sources plant-based terpenes as opposed to cannabis-based terpenes, which are not able to be completely isolated yet. It is these plant-based terpenes that gives KIVA thorough control to create the distinct experience of Camino's four delicious gummy flavors.
The "Chill" Wild Berry flavor is inspired by the relaxing vibes of California's stunning Pacific Northwest coast. It pairs calming indica terpenes with notes of wild blackberry and fresh raspberries for a laid-back weekend feel encouraging you to take a break and relax awhile.
"Uplifting" Pineapple Habanero combines energy-stimulating sativa terpenes with ripe pineapple and a touch of heat for the perfect daytime lift. Plan a trip through the Mojave and invigorate your senses with this tangy yet sweet habanero flavor that gets you up and going!
"Social" Sparkling Pear is truly unique, combining an unconventional ratio of 6mg of CBD and 2mg of THC for a subtle, euphoric high without any anxiety. Fruity sparkling flavors transform your day into a lovely visit to California's unparalleled wine country.
"Balanced" Blenheim Apricot is a flavor that is near and dear to the founders of KIVA. Blenheim Apricots are native to the orchards of what is now known as Silicon Valley. In the 1980s a European varietal of apricot was introduced to the farming communities of California and the Blenheim Apricot, despite its fleshier bite and sweeter flavor profile, was nearly made obsolete. KIVA is paying homage to this signature California apricot as a way of honoring the founders' own family members that continue to farm one of the last Blenheim Apricot orchards in Hollister, California. A thoughtful combination of indica and sativa terpenes with notes of Blenheim apricots and a hint of lime offer a functional medicating experience. This balanced gummy centers your mood and brings you back to the apricot orchards that once populated Northern California's abundant countryside.
All of these low-dose gummies boast a distinctive, pillowy texture and enticing fruit flavor unlike any other cannabis-infused gummy. The hardest decision you make will be selecting the flavor you crave and the effect you most enjoy! Whichever route you decide to travel, let Camino be your guide to a "California State of Mind."
SHOP THE BLOG