How Black Americans Can Create A Cannabis Routine For Optimal Wellness
A Full-Spectrum Perspective
By Alaina M. Dorsey and Lyneisha Watson, Caliva Guest Editor
In 2020, Black Americans began to deeply question what health and wellness means to us as individuals and a community. Not only have we had to deal with the highest rate of COVID-19 cases, but we also learned that "marijuana", the very plant that the U.S. continuously demonizes us for, is considered "essential" to the health of many. Black Americans have always lived in a state of pandemic, and with so many systematic oppressions focused on belittling our existence, we must continuously create systems that counter the negative impacts of racism. 
In our communities, where our lives have disproportionately been influenced by the War on Drugs, the physical and mental blocks that have kept many of us from living full lives, are slowly being removed. Though there are still many barriers to overcome so that we can gain fair, safe-access to cannabis without ridicule or jail time, there is no better time than now for us to begin preparing to have a holistic relationship with the plant and ultimately ourselves.
Have A Clear Vision
For Black Americans who are looking to change their perspective on the plant and create a routine that optimizes their health, the first step is to create a clear vision and goals for yourself. Your experience is typically going to be unique to you. So though you may have hit a blunt with some friends (pre-COVID), gotten unforgettable loud from your plug, or tried a CBD tincture or salve, stepping into the legal realm means being conscious of your decisions.
You should begin by asking yourself the following four questions:
What is my current perception of cannabis?
What role do I want cannabis to play in my life?
What are the cannabis laws in my state and city?
Am I willing to be an advocate for myself?
Answering these questions prior to setting up a consultation with a certified cannabis doctor, can help you gain a deeper understanding of the various ways cannabis can help you create a healthier lifestyle.
Dr. Uma V.A. Dhanabalan, a family medicine, occupational, environmental medicine doctor, cannabis activist, and Founder of Total Healthcare (THC), says that cannabis use isn't just about healthcare, but it is about self-care. We are all treating something. With the proper guidance and intention, we can set ourselves up to have a fulfilling relationship with ourselves through safe, well-informed cannabis consumption.
Become Obsessed with Cannabis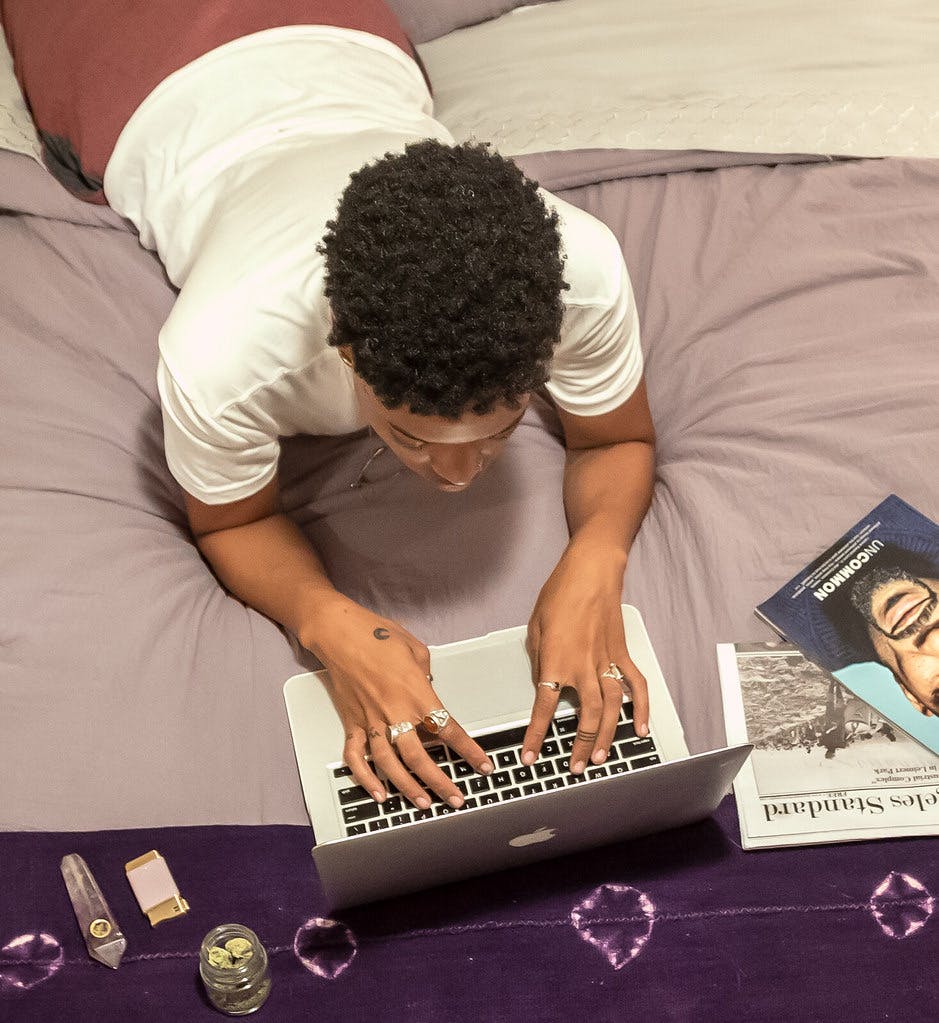 You have to be a bit obsessed with cannabis, at least in the beginning, to figure out the "right" routine for yourself. It comes in a variety of product types, which can provide varying nuances particular to your desired effects. Using cannabis to help you accomplish your optimal wellness goals truly requires constant research and experimentation to strike the perfect balance. Impulse is a short-term game, so this section is meant to channel your obsession into a bonafide experience you can implement daily.
That said, it's time to explore the basics. 
The cannabis you consume interacts with your body chemistry to create a variety of effects that can be both pleasurable and comforting for addressing particular ailments. Cannabinoids are a major component of cannabis that interact with our Endocannabinoid System (ECS). Similar to our circulatory system (for blood) and digestive system (for processing food), the ECS is an embedded part of our body that helps with homeostasis, which works to give our bodies a sense of holistic balance. 
Like humans, cannabis is the sum of all its parts. 
Remember: cannabinoids don't function on their own. There are other components like terpenes and flavonoids: they're present in all plants and they're also theorized to have therapeutic value. They also generate the smell and taste of different strains, lending to versatility on the market. Cannabis consumption is all about finding the perfect combinations of all of these components. The Entourage Effect is a theory that pushes that the combination of different cannabinoids, terpenes and flavonoids bring out the best therapeutic value when consumed for optimal wellness.
All of this is vital to making your legal cannabis product selection: you want to pay attention to the seed-to-sale history of what you purchase, especially cannabis flower. Unlike black market cannabis, you get the awareness of the lifecycle of what you're putting into your body. And with access to lab test results from the Certificate of Analysis (COA) with most products, you can relax knowing you aren't harming yourself with chemicals, heavy metals or lacing from other drugs.
Just like strains have so much diversity, there's a myriad of product types to choose from. Beyond cannabis flower and pre-rolls, there's concentrate, vape oil, tinctures, pills, edibles, lotions, creams and transdermal patches. 
This is why it pays to be "obsessed" with the plant: regulated cannabis opens up an entire world of knowledge that gets you on the path to improving your quality of life. And this also means that you can use any combination of products to create your best life on the daily. Mainly because different products also have varied lengths of efficiency.
Find The Right Doctor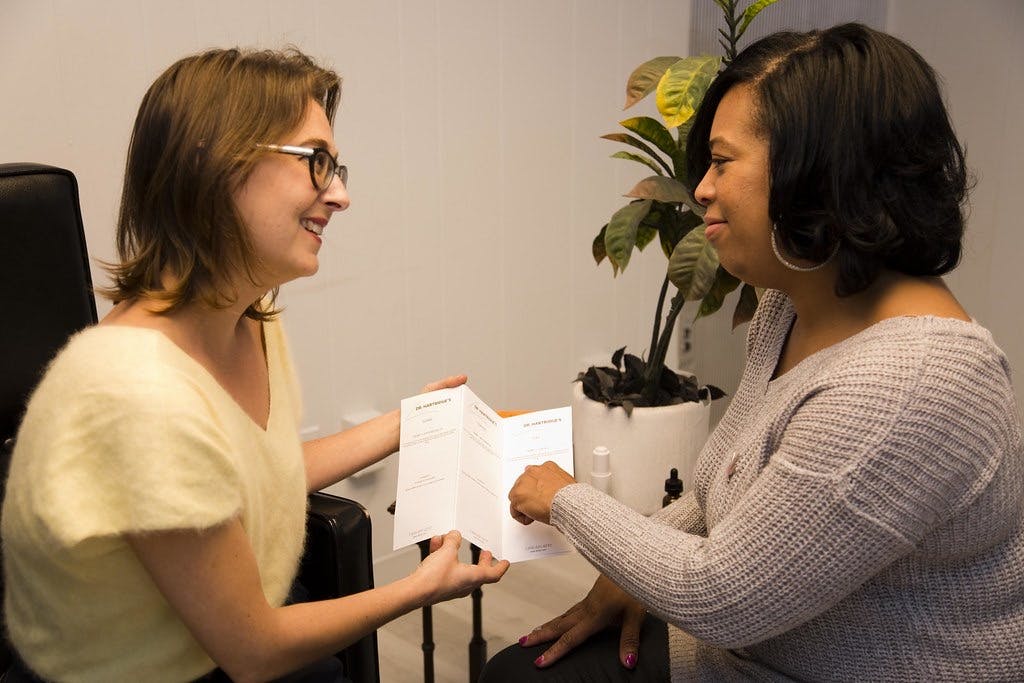 With all this in mind, you can develop a game plan for speaking with a doctor about cannabis to help optimize your experience. Of course, you want to work with one who specializes in medical cannabis to help shape your routine. 
Thus, it's important to understand what your goals are when consuming and meeting with the doctor AFTER you've done your own research. Be your own advocate.
And choose a doctor who aligns with dispelling common misconceptions about cannabis. A major one is that there's a definitive line between "recreational" and "medicinal" use of the plant. You may encounter spaces where folk hold elitist attitudes about the two sides of the industry, but don't fall into that nonsense.
As Dr. Troy Alexander-El, a Black medical cannabis physician and owner of Higher Level Healthcare in Chicago, IL states:
"There's a gray area that contains both sides. There is no true distinction or division. I used to feel ashamed of consuming cannabis to relax. I do consume medicinally for anxiety and occasional depression. But I'm still consuming to better my quality of life—even when I smoke with friends. Carrying shame about recreational vs medicinal cannabis isn't good. Let that go."
We are now living in a space where Black Americans can be open about their curiosity and love for cannabis. As we move into a "Green New World", you must remember that you're in control of your experience. Luckily, we all have access to a wealth of knowledge thanks to the internet and social media. Your cannabis research begins by reading the COA of products, getting informed about cannabis science via blogs like ours, and staying on top of easily accessible research papers connecting certain cannabinoids and terpenes to your ailment(s). And of course, ask as many questions as you need to when shopping at a Caliva dispensary.