Take the High Road with New Fun Uncle Cruisers Vapes
No Matter Where Life Takes You, These Full Gram Vapes are Along for the Ride
Can you believe a year has passed by? Last year at this time we were majorly bummed out cancelling our all-inclusive summer vacations to Costa Rica and stocking up on toilet paper. We didn't expect the shut-down (who would have?). What we also didn't expect as we threw away our bikinis and quit the gym, was experiencing adventure right at the end of our fingertips. We're talking about when you felt no other choice but to reluctantly rent that RV (that you barely knew how to operate) and cruise cross-country, only to discover that the open roads and hot august nights were exceptionally rad. The freedom of hitting the high road and spending the night under the desert stars, cozying up by a wood-side campfire, or waxing up your surfboard to catch some morning waves. The simpler times have gained a new appreciation with adventures right in our own backyards. Now all we need is a co-pilot and we know just the guy to talk to (Uncle Jack of course!). He's been cookin' something up for a while and it's the perfect companion for when you're on the road to destination nowhere. Meet your new bestie -- Fun Uncle Cruisers Vapes. These full gram tasty vapes are along for the ride, and then some!

Why You Can't Live Without Fun Uncle Cruisers Vapes
$25 full gram vapes ready for a rippin' good time
No matter where the road takes you, Fun Uncle Cruiser Vapes will be by your side. You'll love the potency and write home about the flavor. Oh and did we mention that these oil prices are so low that you'll never need to cut your trip short? Yep, we did, but it's worth mentioning again because we don't want you to spend an arm and a leg. Each delicious full gram vape is only $25!
Here's the lowdown on why you can't live without these savory vapes:
Tasty $25 full gram vapes.
Potent distillate with 80%+ THC. You read that one right.
Available in 5 Top-Selling strains in sativa, hybrid and indica varieties.
Reliable quality. Discreet and convenient. Boom.
Take the Road Less Traveled with 5 Tasty Fun Uncle Cruisers Strains
Fasten up and cruise back in time to yesteryear 
Now available in five spectacular strains! Each Cruisers strain is designed to meet you where you're at. From an early morning hike, to watching the sun set into the ocean--each puff is your ticket to paradise. 
By now you're probably thirsting to know more about the five bodacious strains and why they're the ideal companion when you want to cruise on into your next escapade. 
Lemon Jack
Sativa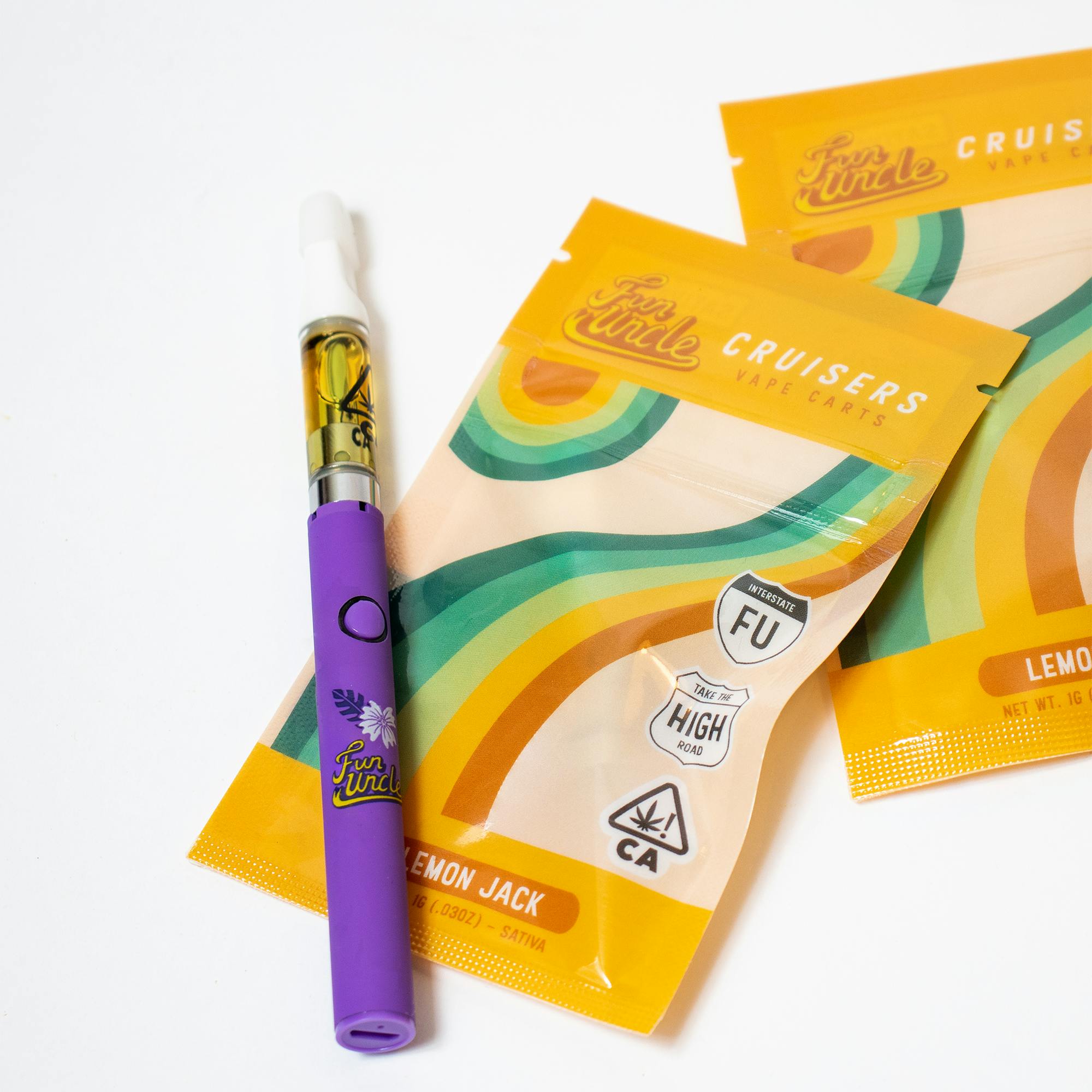 Rise and shine (or wake and bake) and get your day started on a high note with Lemon Jack Fun Uncle Cruiser Vapes. With 85% THC, Lemon Jack is designed with your favorite destination in mind. No need to close your eyes and visualize you're somewhere else (like a desert music festival dripping in sunshine and tan lines...) with Lemon Jack, one puff you're there! Start your next day-trip (or Tuesday morning zoom call) with this energizing daytime sativa -- packed with a spicy lemon zest that's bound to kick you into high gear and keep you parasailing over the Caribbean when you get there. No matter where you decide to wander, whether it's your backyard, or a little further (close your eyes and feel the warm island breeze), this daytime sativa is ready to help you carpe diem!
Strawberry Cough
Sativa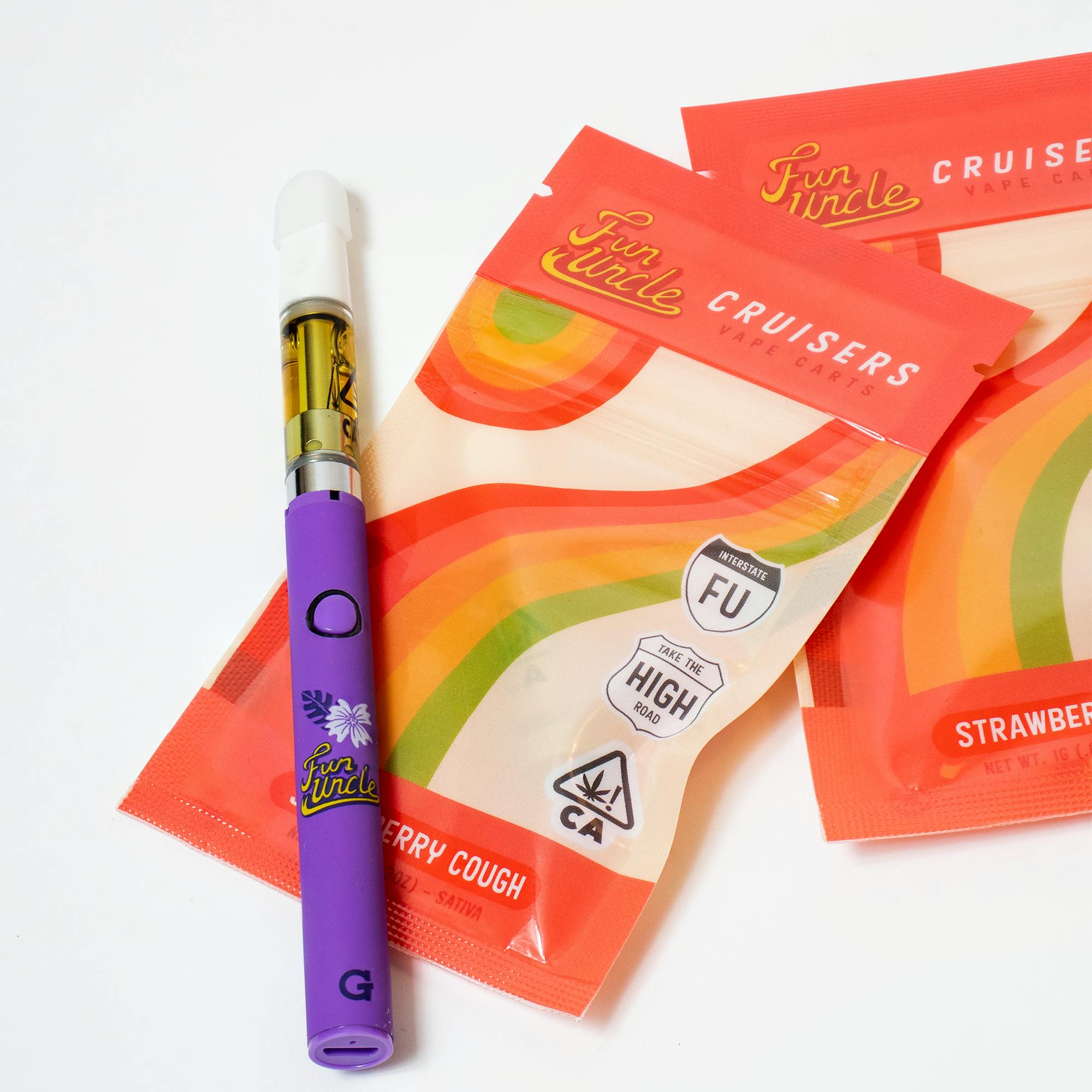 There's no better way to keep on feelin' fresh than with the flavors of Strawberry Cough Fun Uncle Cruiser Vape. Shift into your mid-morning gear with another sativa bursting with deliciously sweet strawberries. You don't need to be an experienced hiker to enjoy exploration, and you don't need to be an experienced vape enthusiast to fall head over heels with the taste of fresh strawberries. This sativa is packed with 85% THC to keep the momentum rollin'. One puff and you'll be transported to the strawberry fields (forever?) of your dreams. 
SFV OG
Hybrid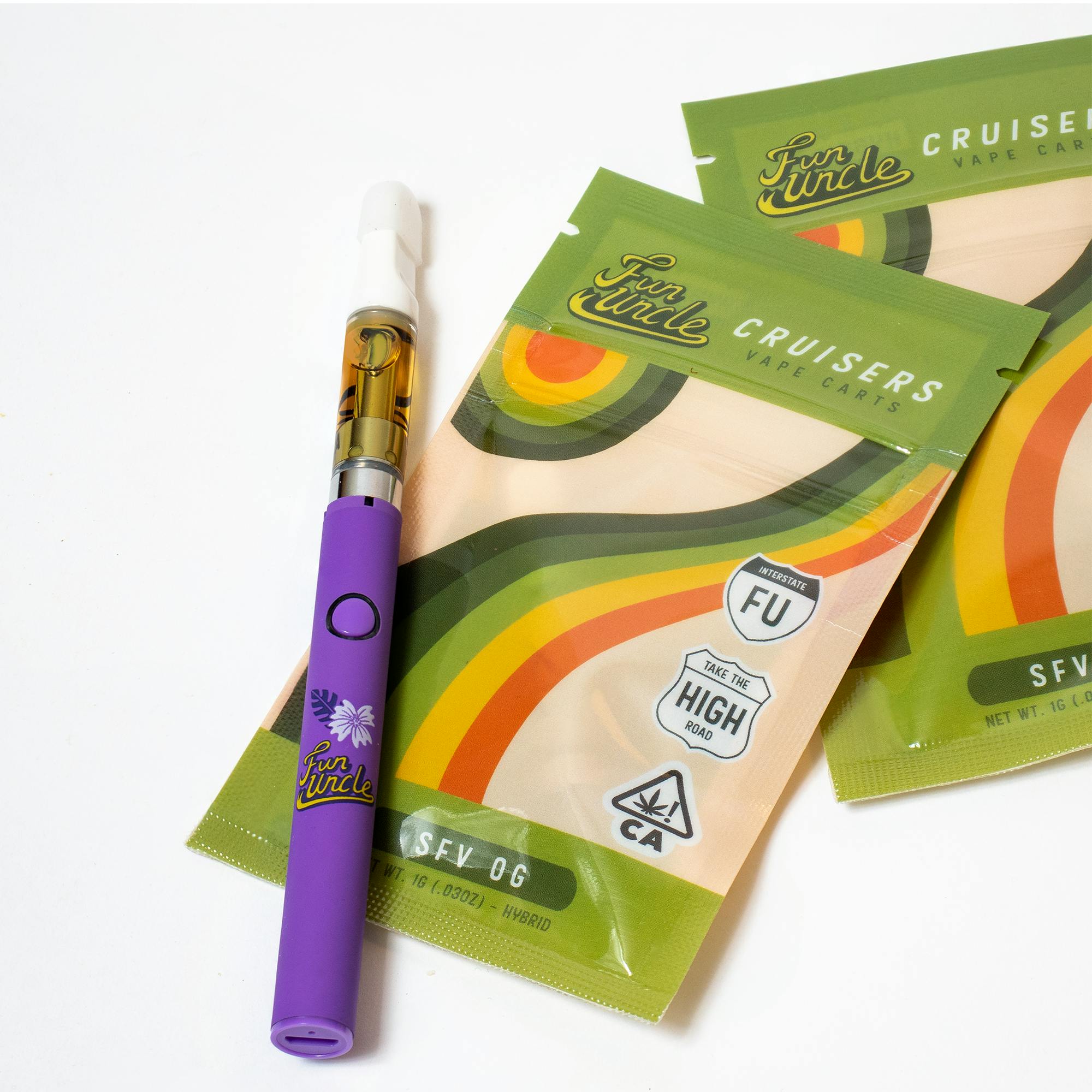 Sky rockets may (or may not) be in flight, but either way you're still going to love this afternoon delight! SFV OG Fun Uncle Cruiser Vape is the afternoon hybrid you didn't know you needed. It's like a pit stop on your way to the ultimate destination (who knows where!). The earthy cedar and citrus notes will shift you out of neutral and into channeling some seriously euphoric vibes. Bring this vape along when you want to enjoy an afternoon out -- whether it's walking your dog or throwing on your headphones and chillin' on a boat, SFV OG full gram vapes are there to elevate your experience. 
GG4
Hybrid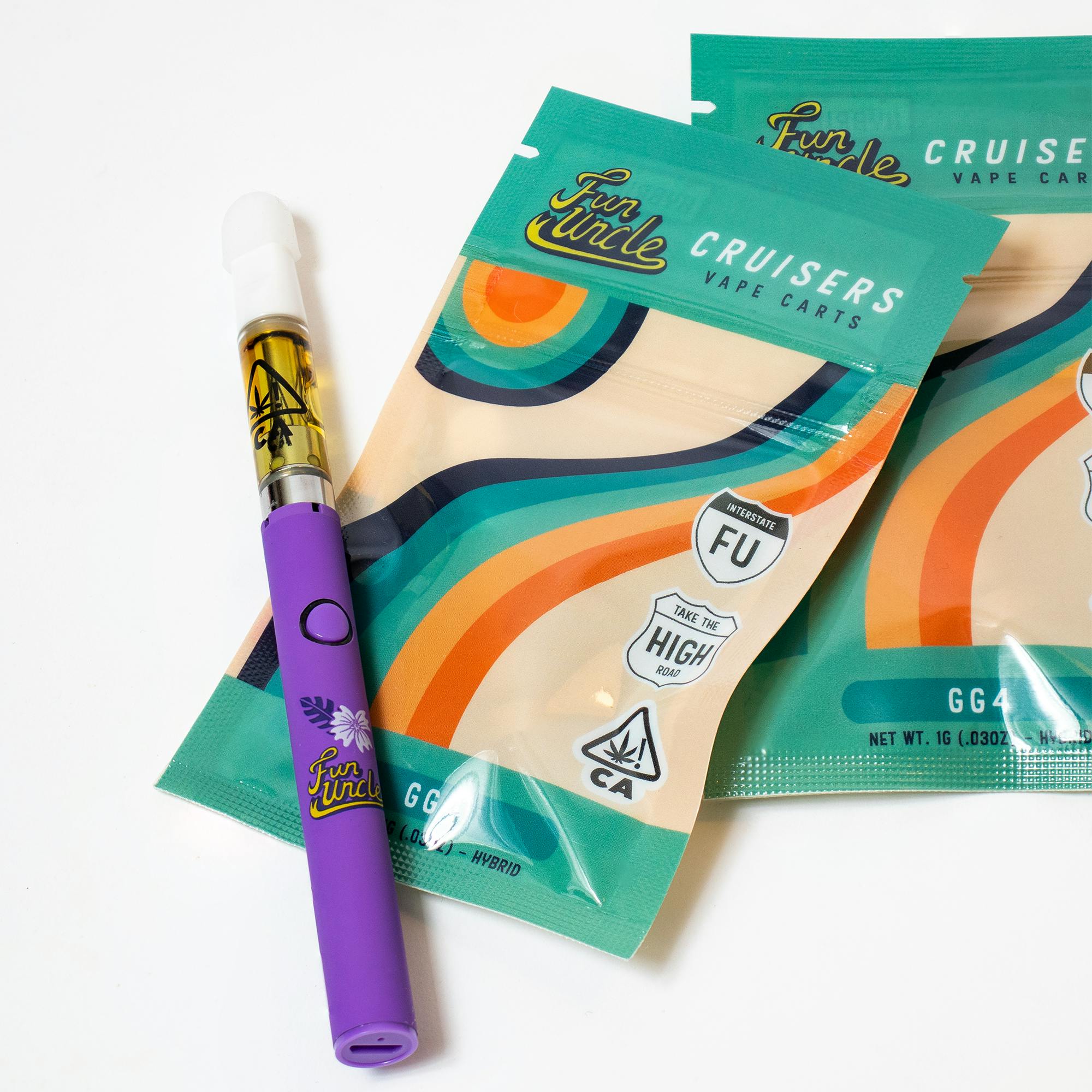 It's that beautiful time of day when you're heading towards the glorious golden hour. And there's no better time to turn to your late-afternoon copilot, GG4 Fun Uncle Cruiser Vape. This is the perfect hybrid for watching the sun sink low as you get your groove on at the beach. Be prepared to have a love affair with the earthy sour diesel taste as it hits you straight in the face. Crank up your body buzz as you let the thrill of today's journey sink in. 
Berry Gelato
Indica
You're starting to breathe in the moonlit sky and will begin seeing stars soon. When you do, it's time to reach for your Berry Gelato Fun Uncle Cruiser Vape. This is the time of day where you downward shift to low gear, and look for a place to camp out for the night. The blissful aroma of sweet berries and cream in this indica is the icing on the cake at the end of a long day. Prepare to wind down as you roast marshmallows and maybe turn to your guitar for jam sesh. Just no Kumbaya please.
Fun Uncle Cruiser Vapes offer a full throttle experience no matter what time of day it is. Whether you want to take it easy with a slow ride, or push things into overdrive, Cruisers are fun, convenient, potent, affordable, and the best way to take the high road.