MAKING WEED-INFUSED LEMON BARS WITH JEFFTHE420CHEF
Dubbed "The Julia Child of Weed", Jeff Danzer works with cannabis in ways that no other cannabis chef in the world does. He rose to prominence as one of the world's top cannabis chefs by using molecular gastronomy and culinary deconstruction to reinvent the cannabis consumption experience. Jeff has been featured in publications such as Vice, The Daily Beast, Huffington Post and Newsweek. He's also the author of The 420 Gourmet Cookbook. Jeff's mission is simple: to make cooking with cannabis simple and easy for everyone and to bring the cannabis consumption experience into the mainstream.
Follow the recipe below to make Jeff's Strawberry-Lemon Kush Bars, a delicious match with our Sour Diesel Lemon Kush Fresh Flower Vape.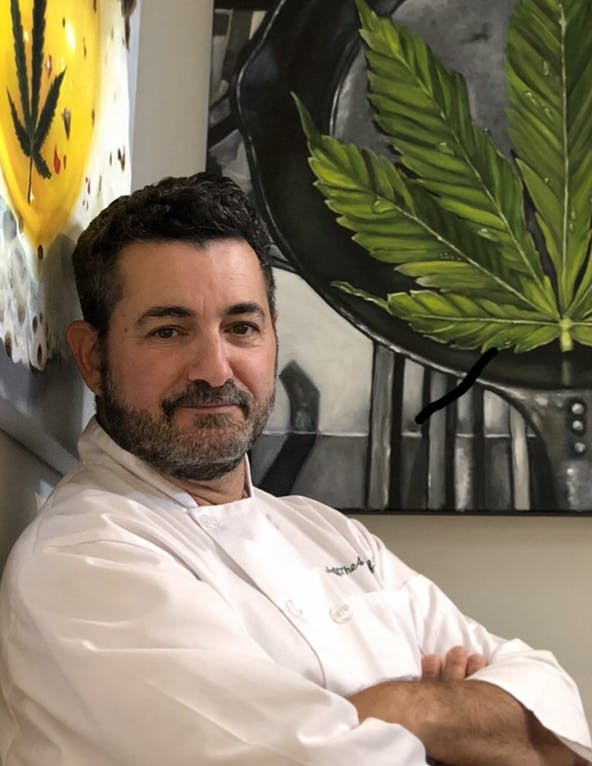 Terpenes are like aromas that help to create the taste and smell to enhance the effects of Fresh Flower Vapes. What are some food and cannabis pairings you enjoy? Any favorite pairing recipes?
Jeff: I already pair foods containing natural matching Terpenes with an edible/smoke experience. Any favorite pairing recipes? Lemon Bars paired with a Limonene rich strain like Black Lime or Super Lemon Haze and Pesto pasta with Pinene rich strains like Jack Herer and Blue Dream.
No matter how you choose to enjoy your cannabis, the feeling you get when you encounter your happy moment is unmistakable. What does your happy moment look like or feel like?
Jeff: Calm, gratitude, understanding and immense appreciation for everyone and everything around me coupled with the desire to create something special.
Is anything else you'd like to include about your relationship with cannabis/vaping?
Jeff: Cannabis has always allowed me to remove the blinders- to see things a lot more clearly for what they really are and what they can be, instead of what others expect me to perceive or do. It has given me the ability to open my eyes and think beyond what exists – to see things that can be done creatively in any situation without distraction. It had also brought me much closer to my kids (I smile with my 2 younger ones regularly, they are 20 and 25) and it Opens my heart and mind to be grateful for everything and everyone around me.
STRAWBERRY-LEMON KUSH BARS
Prep time: 2 hours and 20 minutes
Cook time: 45 minutes
Refrigeration time: 90 minutes
Makes 12 servings
Approximate THC per serving*
10%: 3.8 mg
15%: 5.7 mg
20%: 7.7 mg
Ingredients for the topping (make this first):
1/2 cup raw cane sugar
1/2 cup water
1/2 pint strawberries, rinsed and sliced thin
1/2 lemon, cut into small triangular wedges
For the crust:
1/2 stick creamy canna-butter, plus 1/2 stick unsalted grass-fed butter, softened
1/4 cup cane sugar
1/3 cup all-purpose flour
1/3 cup pastry flour
1/8 teaspoon salt
For the filling:
2 eggs
2/3 cup raw cane sugar
3 tablespoons flour
Zest from 1 whole lemon
1 Meyer lemon, juiced
Juice of 1/2 lime
1/2 cup buttermilk
To make the topping:
Preheat oven to 200°F.
In a small saucepan over medium-high heat, bring sugar and 1/2 cup water to boil, stirring until the sugar has dissolved. Remove from heat and let cool completely. Dip the strawberries and lemon wedges into the syrup and place on a parchment paper-lined baking sheet. Bake for 2 hours, until the fruit is dried but still colorful. (The lemon wedges should be bright yellow and the strawberries bright red.)
To make the crust
Grease the bottom and sides of an 11-by-7 inch baking pan.
In a large bowl, mix together the butters and cane sugar. Add the flour, pastry flour, and salt and blend. Press dough evenly into the buttered pan to fill the bottom. bake 15 to 18 minutes, until golden.
To make the crust
In a large bowl, whisk the eggs and sugar until smooth. Add the flour, lemon zest, lemon juice, lime juice and buttermilk. Beat until smooth and no lumps of flour remain. Pour the filling over the baked crust.
Bake 20 to 25 minutes until the top looks set and edges begin to turn a light golden brown. Remove from the oven and place in the refrigerator for 90 minutes, until cold and set.
Using a sharp knife, cut into 12 pieces, top with candied strawberry and lemon slices, serve.
*Approximate dose per serving is based on infusing 5 grams of cured/dried/decarbed cannabis into 1 ⅓ sticks of butter.
For more of Jeff's delightful creations, follow him at @jeffthe420chef on Instagram.