HAPPY PEOPLE: KATHIE TRUONG
From the HR office to the dance floor, Kathie Truong is by far one of Caliva's happiest people. Her infectious smile lights up any hallway at Caliva and we're beyond psyched to have her on our team. A San Jose native, you can find Kathie at Coachella in the spring and even helping with Caliva's street team at Music in the Park during the summer. Let's learn a little more about Kathie!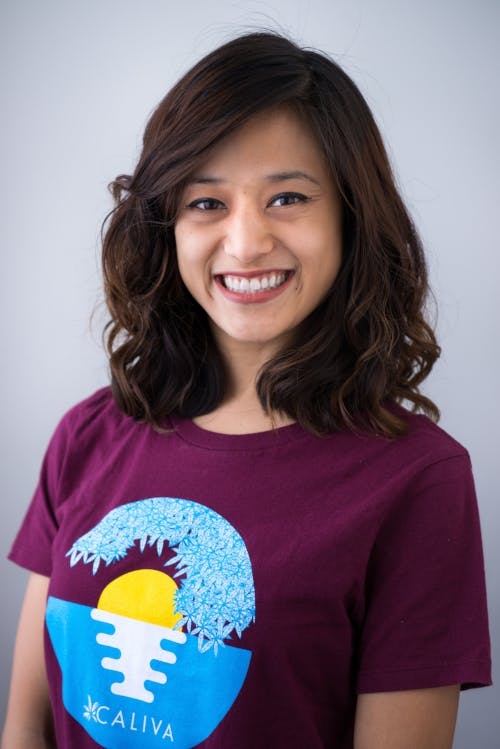 Kathie Troung is one of Caliva's happiest people. As an HR representative, she is an instrumental part of keeping jobs filled here at Caliva. 
Caliva Weekly (CW): Hi Kathie! What's your title here at Caliva?
Kathie Troung (KT): HI! HR Representative
CW: Where can we find you on your days off?
KT: At dance practice. I'm on a salsa dance team and also teach hip hop dance. You can also find me walking my dog Smokey. He's a chihuahua pug mix.  Would we call that a Chug? Pughuahua? Ha ha. I also enjoy making short films. I keep pretty busy when not at work.
CW: Cool! What about music? What kinds of beats do you like?
KT: I like music that sound epic. Indian Summer by Jai Wolf always inspires me. Another example is Hans Zimmer, especially the theme song in Gladiator. Those kinds of song really get me inspired.
CW: What kinds of cannabis products do you enjoy?
KT: If I'm out and about with friends, I enjoy my G Pen. I really enjoy all of the Calvia cartridges for that. In the comfort of my own home, I like Kiva Blueberries. I'm not a huge cannabis user, so these are all just right for me.
CW: What would be your advice to someone just new to cannabis or wanting to try it after a long hiatus?
KT: I'd say to try a Petra Mint (only 1) and wait for 2 hours. If it doesn't work, then move on with your day. Because it will work…just need a little patience.
CW: Okay, here's a fun question- Which animal would make the best type of president if the animal kingdom ever rises up and takes over?
KT: A dire wolf, like Ghost from Game of Thrones. I named my car after him!
CW: Okay, finally - what's your favorite thing about working at Caliva?
KT: The people!!! We're always hiring too! 
Want more stories like this delivered right to your inbox along with exclusive discounts and access to Caliva events? Sign up now! (we promise we won't blow up your inbox)