HAPPY PEOPLE: ANDREW MARTIN
Here you are cruising around Caliva's websites and thinking, "This looks great and is so user friendly. I wonder who designed this?" Folks, it's Andrew Martin, Front End Engineer here at Caliva. His job is to innovate in the tech space and ease the the friction of your online experience. A South Bay local, Star Wars fan, and lover of all genres of music; Andrew is an eclectic guy who is genuinely fun to work with. Let's hear from Andrew!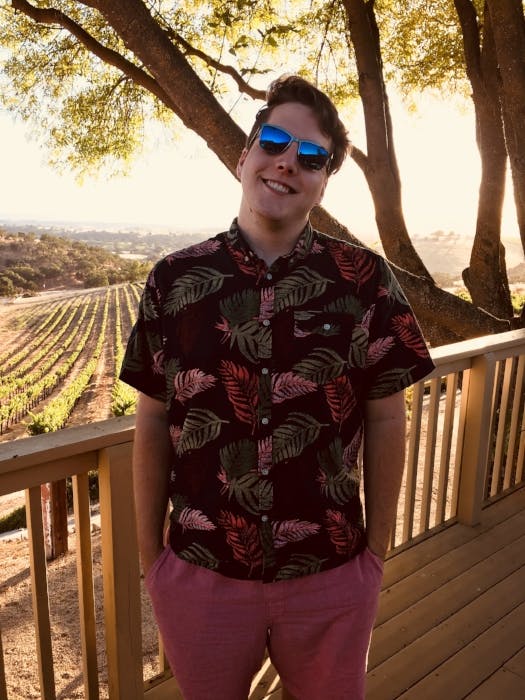 Caliva Weekly (CW): Hi Andrew!! Where can we find you on your days off?
Andrew Martin (AM): Hi! On my days off you can typically find me taking long walks and drinking tea around San Jose. You might also find me enjoying a round of Call of Duty or tinkering with various electronic equipment and programming languages trying to figure out cool new ways to innovate technology.
CW: Can you elaborate on that? What kinds of projects do you like to work on? 
AM: I love creating random electronics. In short I take a raspberry pi or Arduino and connect it to various components to make fun electronic systems. One project that I did recently involved setting up a system to allow house lights to be turned on and off via a mobile application.
CW: Wow. It's good to hear that you are passionate about tech in all aspects of life. Any good tech type TV shows you're into? 
AM: I really enjoy a show called Altered Carbon (on Netflix). This show is set in a futuristic dystopian world where technology has advanced to the point where the human conscience has now taken a digital form. It is a great television show that always keeps me captivated. 
CW: Okay, let's get even more nerdy. If you could meet any historical figure, who would it be? 
AM: I would love to meet Ada Lovelace. She was a brilliant mathematician and computer programmer from the 1800's who was able to take her knowledge of mathematics and apply it to in a manner that could interface with a machine. I would love to talk to her about how she would think of modern programming and technologies.
CW: Awesome. So it sounds like you might be a fan of cannabis. Any favorite products? Places to smoke? 
AM: I often find myself enjoying a Caliva Dogwalker while walking around the community. It is a fantastic product that allows for a very uplifting experience. I also really like the GPen GIO products. I like Classic Jack during the day and a little Cali OG in the evening. It's great to have one device that can allow for different need states. I also really like Reef Leaf. Perfect for rolling a doobie before settling in to program!
CW: Finally, what do you like about working at Caliva? 
AM: Working at Caliva is an amazing experience and opportunity. Caliva's constant growth and desire for innovation has created a fantastic work environment that has allowed the engineering team at Caliva to not only develop amazing platforms and applications, but has allowed us to look into where technology may go in the future for this industry and that's super exciting to be a part of.