DIGITAL PAYMENTS AND CONTACTLESS DELIVERY/PICKUP NOW THE NORM
Our world is drastically different than what it was just a month ago, and now more than ever Caliva is trying to make it easier and safer to get you seamless access to your favorite, high quality cannabis products. It's important to us to keep our employees safe, as well as satisfy our customers' needs in a secure and reliable manner. This is why we've teamed up with the folks at Hypur, to not only offer a cashless way to pay for products in our stores and on caliva.com, but to keep you and those working hard at the stores and delivering orders safer in these unprecedented times.
"Cannabis consumers in California have a new way to help protect themselves during the coronavirus pandemic with a new contactless payment and delivery system launched this week by Caliva..." - High Times
CALIVA + HYPUR
A convenient way to pay for your cannabis products online
Caliva has teamed up with Hypur—the payment technology platform designed for industries like cannabis sales—to offer you a new way to digitally pay for dispensary orders. Hypur has been around since 2014, providing businesses cutting edge payment technology solutions for secure in-store, online, and delivery purchases. Caliva partnered up with Hypur to make it even easier for customers like you to pay online and get easy access to cannabis products—either for pickup at your local dispensary or through the Caliva online store for home delivery. That means you'll never have to worry again about going to the ATM to get cash. 
No one likes to think about how many hands touch cash and coins, and viruses like COVID-19 can live on surfaces for days, depending on the circumstances. But now that you can pay for Caliva cannabis products digitally with Hypur, there's no need to worry about touching something that could have possibly come in contact with the virus.
The cannabis industry has rightfully been designated "essential" in California, which is why we made it effortless for anyone living in San Francisco, the Bay Area, or Los Angeles to have a reliable and secure way to pay online. When you reach the payment page for your pickup or delivery transactions, you'll be prompted to pay with cash or Hypur. If you already have a Hypur account, great—you can check out immediately. If not, it's super easy to sign up for one. Caliva customers' Hypur payments will be drawn directly from their bank account, with no need to worry about paying in cash or having contact with someone at the dispensary or during a delivery. Not needing to worry about exact change for your delivery? Yup, Hypur finally solves that. 
"Caliva buyers won't have to worry about trips to the ATM, especially now during COVID-19 shelter-in-place orders…" - TechCrunch
The Caliva and Hypur partnership couldn't come at a more crucial time, and as usual we're working hard to ensure that we're ahead of the curve to meet our customers' demands. Since everyone is practicing responsible social distancing and obeying the shelter-in-place order that is currently in effect in California, we wanted to make it simple to pay for your cannabis products by creating a cashless, contactless checkout option. This is the perfect solution if you're high risk, don't have the option to visit a dispensary, or just want to do your part to stay home and stay safe. 
BENEFITS OF A CALIVA + HYPUR PARTNERSHIP
There are many reasons you'll enjoy seamless online ordering and payment options.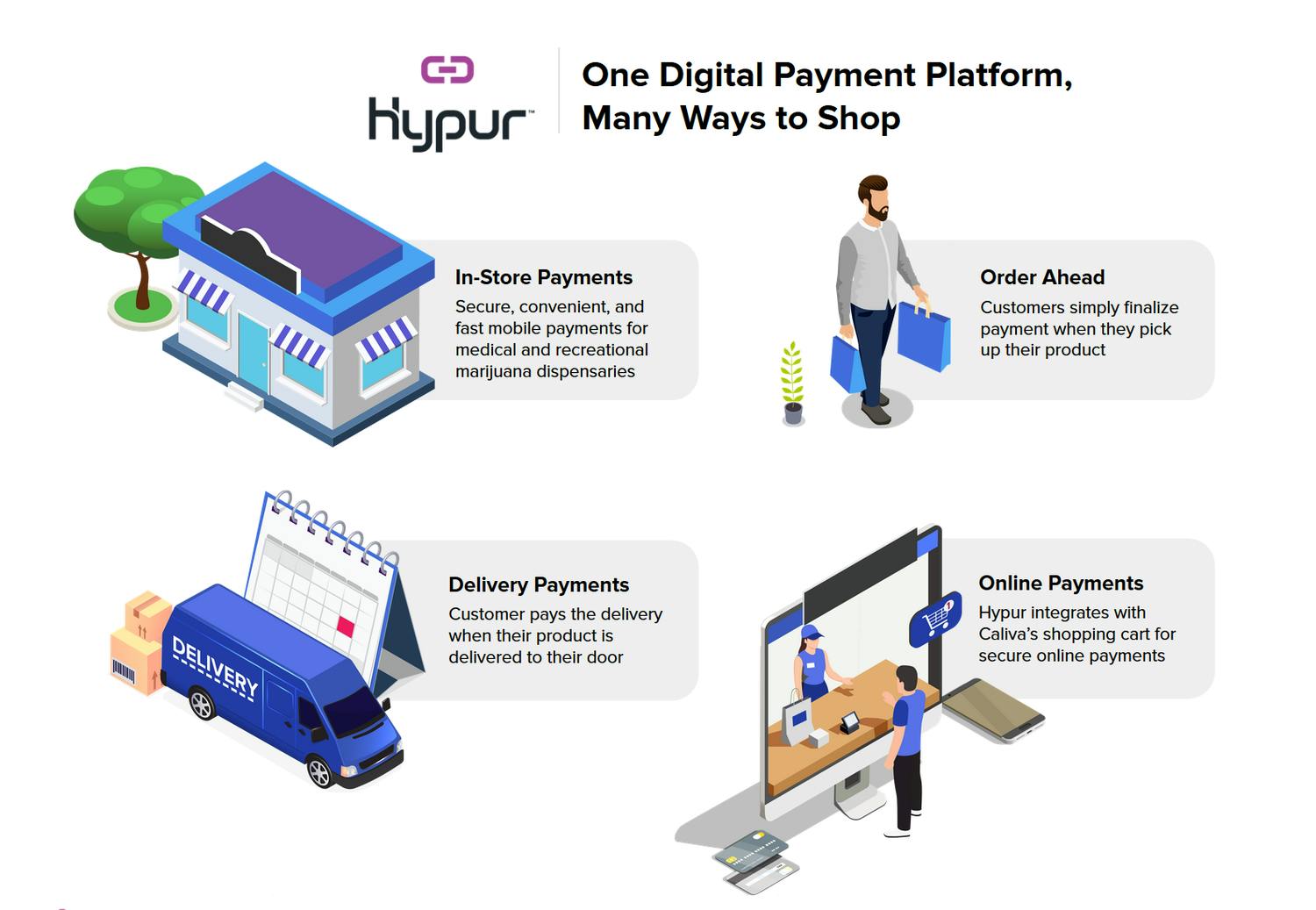 Secure and cashless
When we say secure, we mean secure. Hypur's transaction software is trusted by over 600 stores and financial institutions to ensure that their financial affairs are handled in a secure manner. In fact, they've received the highest level of security compliance, PCI DSS certification, which means that your transaction information is definitely going to be safe. They've also never had an outage or gone down in the six years they've been doing this, so that's another plus.
As we mentioned above, one of the best things to come out of Caliva's partnership with Hypur is that it offers a secure way for you to pay for your cannabis products without relying on cash. The people at Hypur have done all the leg work and are in compliance with all applicable rules in California. That means all you do is pick out your products and pay with your phone—Hypur has done the rest. 
Now more than ever you're probably looking for ways to avoid paying for anything with cash—because that means taking a trip outside, possibly touching contaminated bills, and dealing with another person. With Hypur you won't have to worry about that anymore when the time comes to refill your cannabis supply. Relax, order online, and whether you choose pickup or delivery, you won't have to rely on cash to pay for your cannabis goods.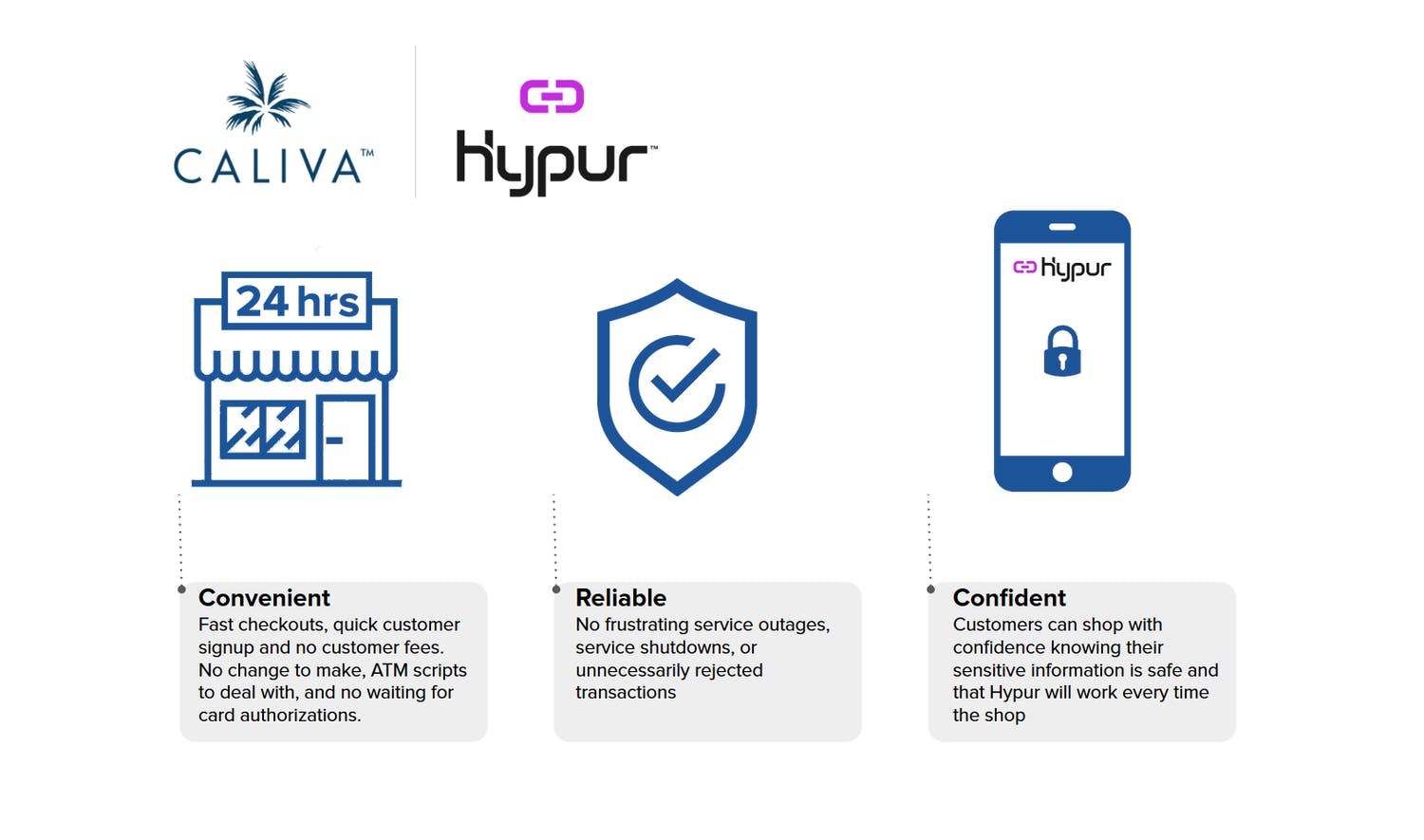 Contactless delivery and pick up
A lot of us are relying on pickup and delivery for almost everything these days, including food, alcohol, and even toilet paper. (If we can find it!) Why not do the same when it comes to your Caliva products? When you order online and choose to pay with Hypur, you can still decide whether or not you'd prefer to pick up your order or have it delivered. Regardless of the method, you can feel comfortable knowing that since you paid ahead, you won't have to worry about having the correct cash on hand for your order.
"…feels as legitimate as it feels familiar to the regular person…" - Forbes
We're all a little more stressed these days, so let's at least take one thing off our plate and not worry about touching another person when we're picking up our cannabis products or having them delivered. After all, that's the whole point of social distancing and learning to live in quarantine, isn't it? So, let's all take the safer option and limit our contact with other humans and opt for the safe checkout alternative that offers contactless curbside pickup or drop-off delivery. 
Tip your driver and budtender
Essential workers like budtenders and delivery drivers are the reason we have uninterrupted access to cannabis in California—so kudos to you amazing people! Each day they're making sure you get exactly what you need, so why not show them a little extra love? Hypur now allows you to tip your driver and budtender as a thank you before you complete your purchase. When you're at the safe checkout screen, just enter an amount to show how much you appreciate either your driver or the kind person working at the dispensary. In these uncertain times, it never hurts to show your appreciation for those working in essential businesses!
"When customers make a purchase with Hypur's 'safe checkout' feature, they will receive a text code from the Caliva delivery driver managing their order to input into the app to verify and authenticate the transaction.
Once the transaction is approved between Caliva and the consumer, a bank to bank transaction occurs via Hypur and the funds are exchanged.
The products will be delivered to the customer by Caliva's in-house delivery service in the same way as customers would expect from any other mainstream online delivery services."
- Dennis O'Malley, CEO
With the option to complete your Caliva transaction through Hypur, you'll never have to worry about stopping at the ATM again to pay for delivery or a pickup purchase. Never go without your favorite products, and make your time in quarantine a little more enjoyable by placing an order at caliva.com and opt for cashless and contactless delivery or pickup.