Chill for the Holidays: Hot Chocolate Recipe & A Flavors Review
By Caliva Staff
Gather 'round the fire and get nice and toasted – winter is here for the foreseeable future. Get that tinsel on your mantel (or palm tree, if you're in sunny California) and lean into the festivities with the best seasonal treats. 
As for us, we're leaning into the gift-giving spirit with a special promotion running until the first day of 2023: When you buy 2 Chill Chocolate Bars for $20, you'll receive a Chill Mug and a recipe card for an infused hot chocolate.
Luckily for you, we're sharing that recipe on our blog, so you enjoy a steaming mug of hot chocolate that's bound to help you bundle, cuddle, and… chill. 
Keep scrolling for reviews of our favorite Chill chocolate flavors: you can customize the recipe with any flavor to be as naughty or nice as your heart desires.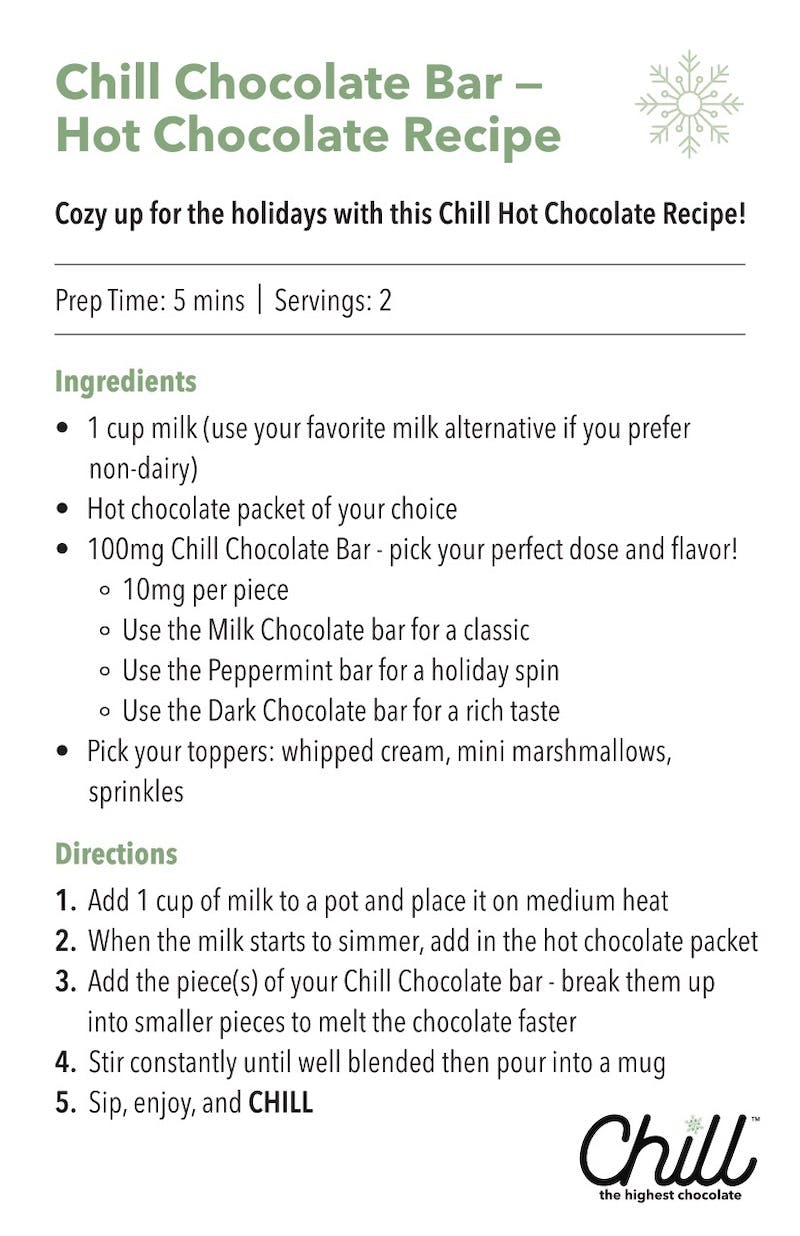 A Flavors Review of Chill Chocolate Bars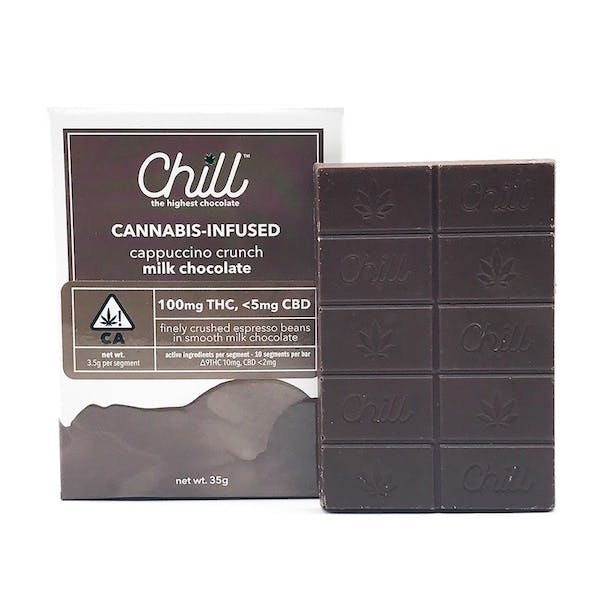 $10 / 100mg THC per bar
Coffee-lovers, rejoice. The Cappuccino Crunch was a standout flavor that delivered a solid buzz along with the 10mg THC in each square. 
The creamy milk chocolate is studded with a satisfying crunch of crushed espresso beans, and the result was a realistic cappuccino flavor –think single shot, a spoonful of sugar, and a solid high.


$10 / 100mg THC per bar 
Move over, Andes mints! The peppermint flavor truly delivers on its promise — the smooth milk chocolate is infused with not just CO2 extracted cannabis oil, but equally pure organic peppermint oil. 
We loved the contrasting mouthfeel–both luxurious as well as refreshingly minty. There's surely some terpene synergy happening here, but we were a bit distracted by the delicious flavor!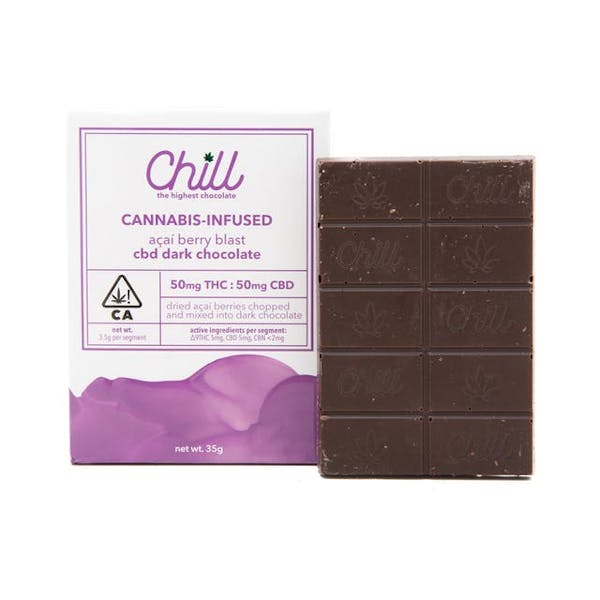 $10 / 50mg THC and 50mg CBD per bar 
We're big fans of açai bowls, but didn't know what to expect from the Açai Berry Blast. Well, health-food-phobes can rest at ease, because Chill didn't hold off on indulgence here. 
We found the organic açai powder added a sweet, tart depth that complimented the rich cacao flavor. A fun surprise was the addition of other mixed berries, which gave good texture to the experience. 
An equal 1:1 THC to CBD ratio led to us eating a couple squares (a manageable 5mg of THC and CBD each) and the melting away of muscle tension and achy joints.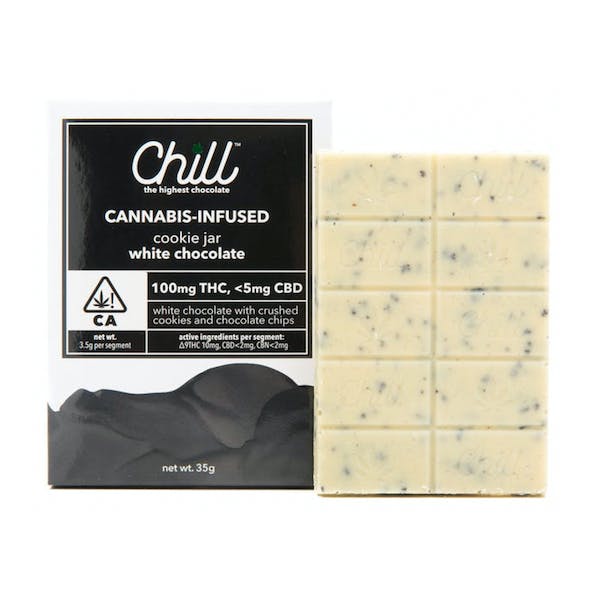 $10 / 100mg THC per bar 
White chocolate is a controversial one, but here's a spicy take: if you enjoy hybrids, ambiguity, and complexity, why choose between vanilla and chocolate, when you can have white chocolate, the in-betweenest of the two? 
Pothead pontificating aside, the Cookie Jar flavor is the most decadent, adult take on cookies-and-cream yet. We were delighted by the creamy white chocolate, with crushed chocolate and cookies swirled in for the most satisfying bite ever. 
If it didn't have a full 100mg of THC in the bar, we would have eaten it in one fell swoop.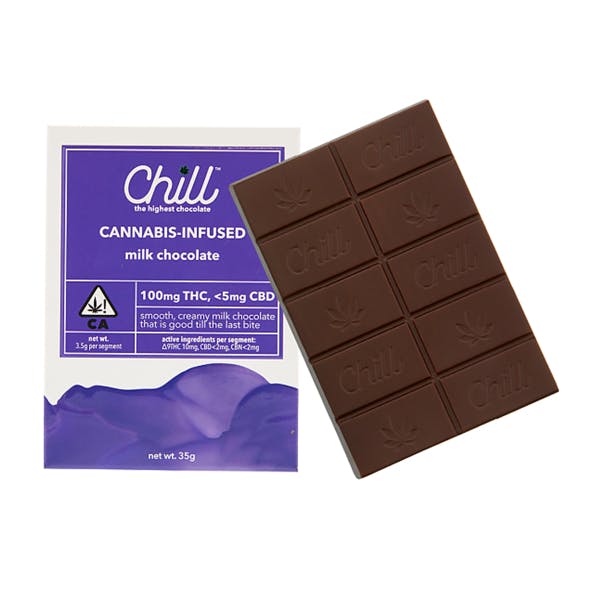 $10 / 100mg THC per bar 
Take it back to basics with a solid smooth milk chocolate. We weren't expecting much, to be honest, having gotten used to 95% cacao in our hipster days, but we'll be the first to tell you: milk chocolate's where it's at. 
Sweet, silky, and comforting, we realized this is why Chill goes with a milk chocolate base for all flavors. 
Milk chocolate and cannabis go together like nothing else, and it felt just right. A luscious melt-in-your-mouth that's immediately reassuring in its nostalgic familiarity, and with premium ingredients, at that.