CANINE LOVE WITH SHELAH BARR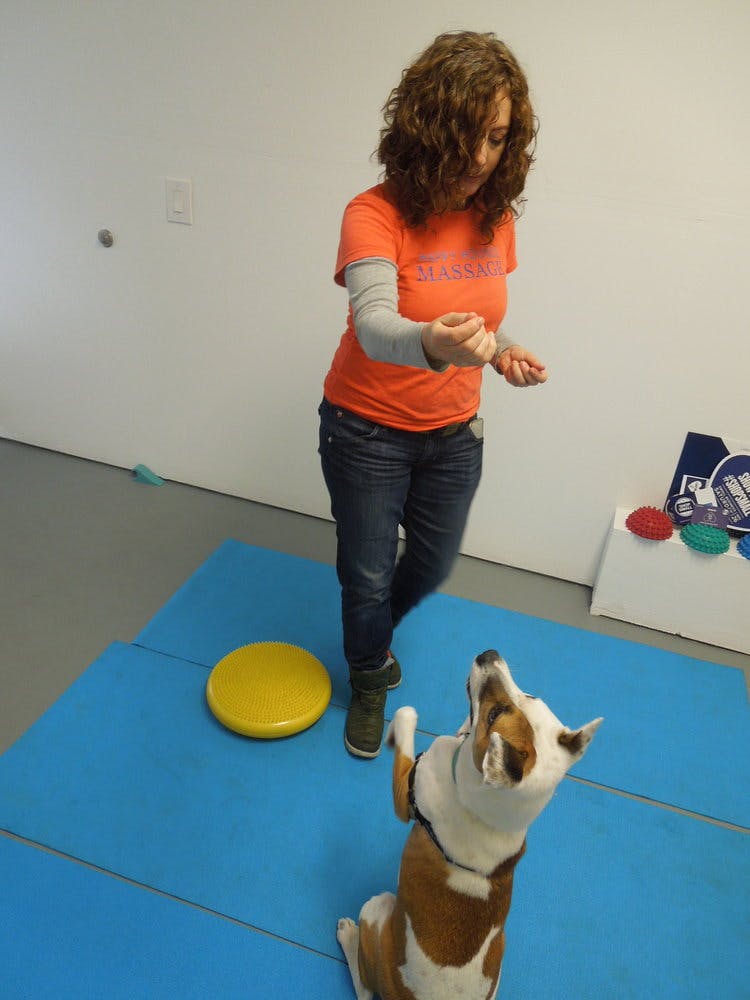 Shelah Barr  (CMT, ABW, SAMP, CCFT)
We recently sat down with Shelah Barr, owner of Happy Hounds Massage and Fitness to discuss all things canine wellness and the benefits of CBD for pets. 
Coastal Grown: Tell us a little bit about your business.
Shelah Barr: HHM&F is pretty much a one man show, so to speak. I started the company about 11 years ago with the idea to make wellness and preventative care for pets accessible, affordable, and fun.
I do all the hands-on and face-to-face work, and all the admin stuff.  I'm really lucky to have met other independent and talented women who fill the gaps (canyons, really) in my knowledge and abilities about running a business. It's been a goal to be able to give other women work and I'm really happy that the company is able to do that now.
I started out doing house and work-space calls for pet massage. In the last year, after finishing a specialized program at a vet school, I opened the canine fitness studio where the dogs do their personalized work-outs. The studio also works well for massage clients who live too far out of SF for a house-call.
The company has also been an avid supporter of our local rescues. I spend as much time as I can volunteering, and just finished sitting on a State mandated Task Force with the California Veterinary Medical Board regarding Animal Physical Rehabilitation.
CG: When did you start working in the canine wellness world?
SB: I started working with dogs 12 years ago after nearly 20 years in human health care, and officially founded the business in 2006.
CG: What drives your passion to help animals?
SB: It must be a combo of my love for working with bodies and my love for animals. Our domesticated dogs can't really thrive without us. Not everyone has the knowledge or ability to supplementally support them the way they need, or even the foresight to do so – we all have our strengths, right?  Mine is understanding how a body stays healthy, ages well, and gets hurt and heals. And I'm really loving working with animals, so this is what I love to do.
CG: What role do you think cannabis plays in canine wellness?
SB: Cannabis, like any medicinal herb, could be helpful for some dogs with certain conditions. CBD has been shown to be effective in reducing inflammation and pain in humans, and successful in mitigating symptoms of certain conditions and the side-effects of some pharmaceuticals (e.g. chemotherapy drugs).  So far it seems that CBD can offer canines similar benefits.
For example some of the more popular and effective arthritis treatments for canines have undesirable side effects. It's possible CBD could be an adjunct to a pharmaceutical allowing you to reduce the amount of chemical your pet is taking, or in some cases, be a replacement.
There could also be benefits to short term usage. As veterinary medicine advances so do the treatments available for acute injuries such as broken bones or torn ligaments. Orthopedic repairs are becoming more common, and even though dogs tend to heal more rapidly than we do, they still have post surgical pain and inflammation.  CBD might be a way to co-treat those temporary symptoms, as well as keeping your pet calm during the healing process so they don't re-injure themselves.
CG: Are there particular products that you're a fan of? Why?
SB: There are 2 manufacturers I know of that are using human grade medicinal plants to produce CBD tinctures for pets.  One is Treatwell and the other is Vet CBD. 
My belief is that if you're going to administer a medicinal agent to your pet it should be of the highest and purest quality available. You should also be able to find out how it was produced, what the ingredients are, and what dosage to use.  These two companies are candid about their ingredients, processes, and are available to consumers who have questions about their products.
There's another product I like but am cautious about. It's a vegetable glycerin based tincture. Most tinctures are made with some kind of alcohol or even chemicals, and glycerin is frequently made from grape, which is highly toxic to dogs.  This one has no alcohol, chemical or grape, and is sweet so a dog is happy to lap it up, but it has mixed test results showing mid to high ranges of CBD, and mid to high ranges of THC ,which if accurate would make it inappropriate for pets. It's also made for humans so you have to do a bit of math to calculate the correct dosage.
CG: Do you have advice for people who are hesitant to introduce cannabis to their pets?
SB: 1. Do your research. Read as much fact-based information as you can. Understand there will be very little of it not because it doesn't work, but because studies about subjective symptoms like pain with a being that doesn't have the power of speech are very difficult.  But that doesn't mean there isn't information available, you'll just have to be resourceful in finding it.
There are some veterinarians, especially in Colorado and California, who are doing their own small studies. Reach out to them if you have questions about their findings.
2. Talk to people who are using products that are made responsibly and specifically for pets. I don't mean read the testimonials on a website, I mean find people who have been using the products for their pets and are willing to speak with you, or at least email with you. Ask if they had the same concerns you do, what their concerns were, and what swayed them, and express your own concerns. Also ask them what pet they're using it for, and what condition that pet is in. Their experience might be with an arthritic cat and you have a dog with a torn ACL. You want to compare apples to apples to get a better and truer idea of what your results might be.
3. Talk to your vet. Ask them what their experience is with other patients and CBD, and if they think it might be appropriate for your pet.  And be clear it's CBD, so they don't get alarmed about THC toxicity, which is what they see in the ER.
CG: Describe a perfect weekend for yourself.
SB: A good session at the gym, working with some clients, getting down time at home with my crazy dog, hanging out with friends – maybe a hike, movie, dinner, museum visit or cooking. Some naps. I love naps!
CG: When not at work, where can we find you?
SB: What's "not at work"? Any of the places above, or Land's End. One of the best urban hikes ever.
*Please note that Shelah is not a medical provider and the comments made are her opinion based on experience in this particular field of practice. None of the comments are intended to be a replacement for veterinary advice or care.