BEST CANNABIS PRODUCTS FOR YOUR DAILY ROUTINE
Amplify your wellness routine by incorporating these essential cannabis products.
It's nice to know that gone are the days when you had to hide your cannabis products in a special drawer or secret stash box. Today's cannabis items are designed to be a part of your everyday routine and are easily stored in your medicine cabinet, purse, or bedside table. Many of the things you reach for each day can either be replaced or supplemented by one of these enjoyable cannabis products. So, looking to add a little happier to your day? You're in luck because we're highlighting some top-notch items that deserve a place in your daily routine.
Get Better Sleep and Wake Up Feeling Refreshed
Everyone can use a restful, good night's sleep.
Sleep can seem so elusive sometimes, but now more than ever it seems important to make sure you take some time to get in a good snooze to keep up with everything life can throw at you. Having trouble getting the restorative sleep your body needs? Why not add a little something extra right before bed to get both your body and your mind ready for rest. 
AbsoluteXtracts Sleepy Time Soft Gels is the perfect way to wind down after a long day or to give your mind some much-needed quiet when it won't seem to stop racing. Made with 25mg of premium distillate THC and MCT coconut oil in each capsule, these oh-so-easy to take soft gels will have you nodding off to sleep in no time. Once you've had a good night's sleep with these capsules, you'll want to make sure they become part of your daily wind-down routine.
Why Not Replace Alcohol with a Low-Calorie Cannabis Alternative?
If you're looking for a social lubricant that's low dose and low calorie, we've got you covered.
Sometimes it's great to unwind with a glass of wine, a cold beer, or a frosty mixed drink--but sometimes you just don't want to deal with the effects of alcohol. Whether it's a desire to eliminate those never fun hangovers, or avoid an excess of empty calories, swapping out an alcoholic beverage for a cannabis-infused one is a good idea all around! Cann's Social Tonics pack a lot of fun into their 8oz. size, and even come in three out-of-this-world flavor combos like blood orange cardamom, grapefruit rosemary, and lemon lavender. Each can have 2mg of THC and 4mg of CBD and is the perfect low dose and all-natural alcohol alternative that we all could use a little more of right now. 
When you crack open one of these cans, prepare for not only a flavor party in your mouth, but for another great way to find your glow.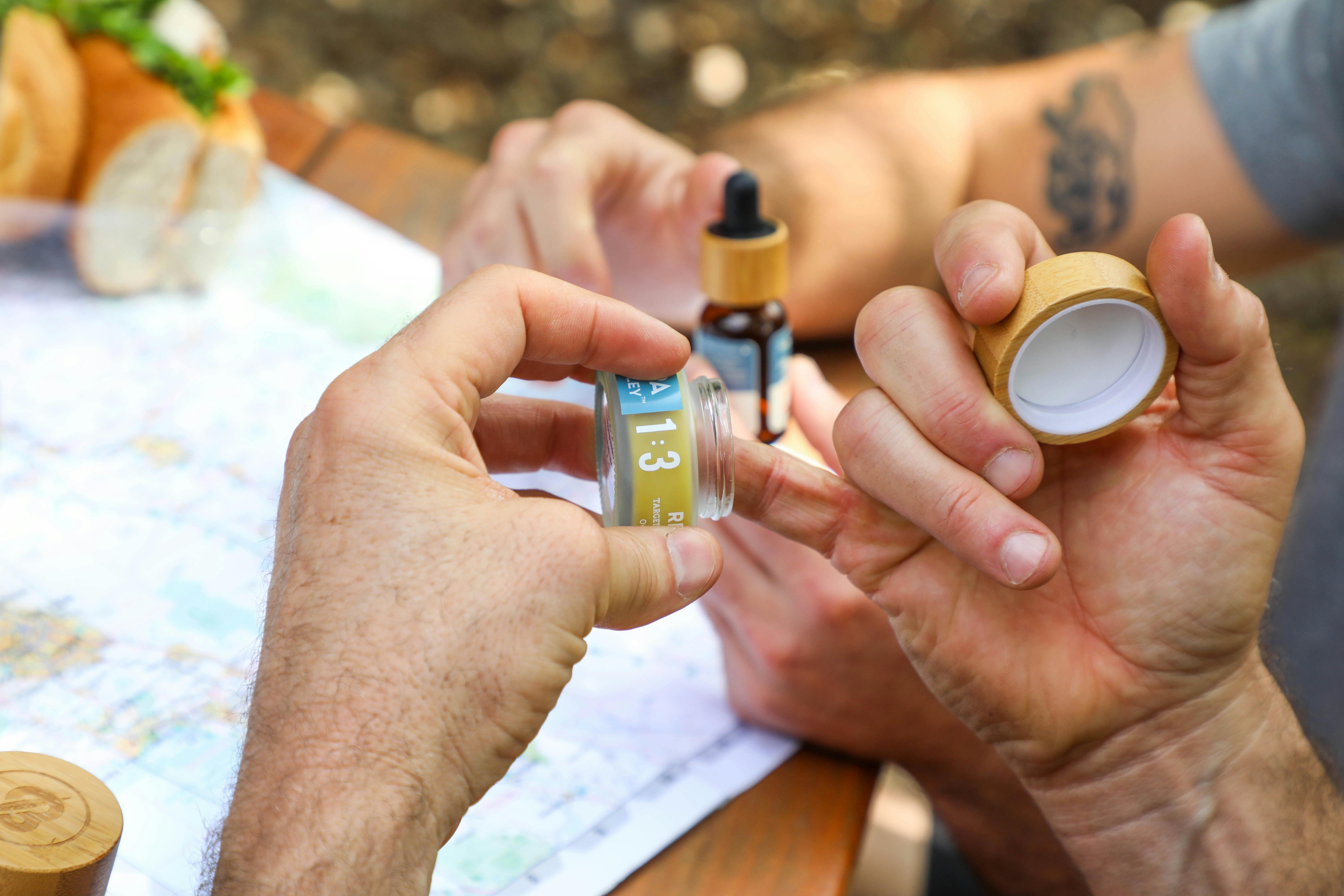 Soothe Your Muscles Post-Workout
Give your muscles some love after a strengthening workout.
Next to maintaining a good diet and getting restful sleep (and maybe including a daily dose of laughter as well), having a good exercise routine is crucial to staying happy, healthy, and present. Exercise has been proven to not only be essential for your physical health, but also for your mental health—releasing endorphins and serotonin and helping to reduce stress levels. No matter what your go-to workout routine is, sometimes our bodies just need a little extra care after an intense session. 
Giving your muscles a stretch and a gentle massage is a great way to wind down, but why not up the healing vibes with Papa & Barkley Releaf Balm 3:1? Known for their world-class purity and relieving factors, this balm is just what your muscles and joints want in order to quickly repair. The potent and all-natural coconut-infused balm provides hours of calming relief from a 3:1 ratio of CBD to THC.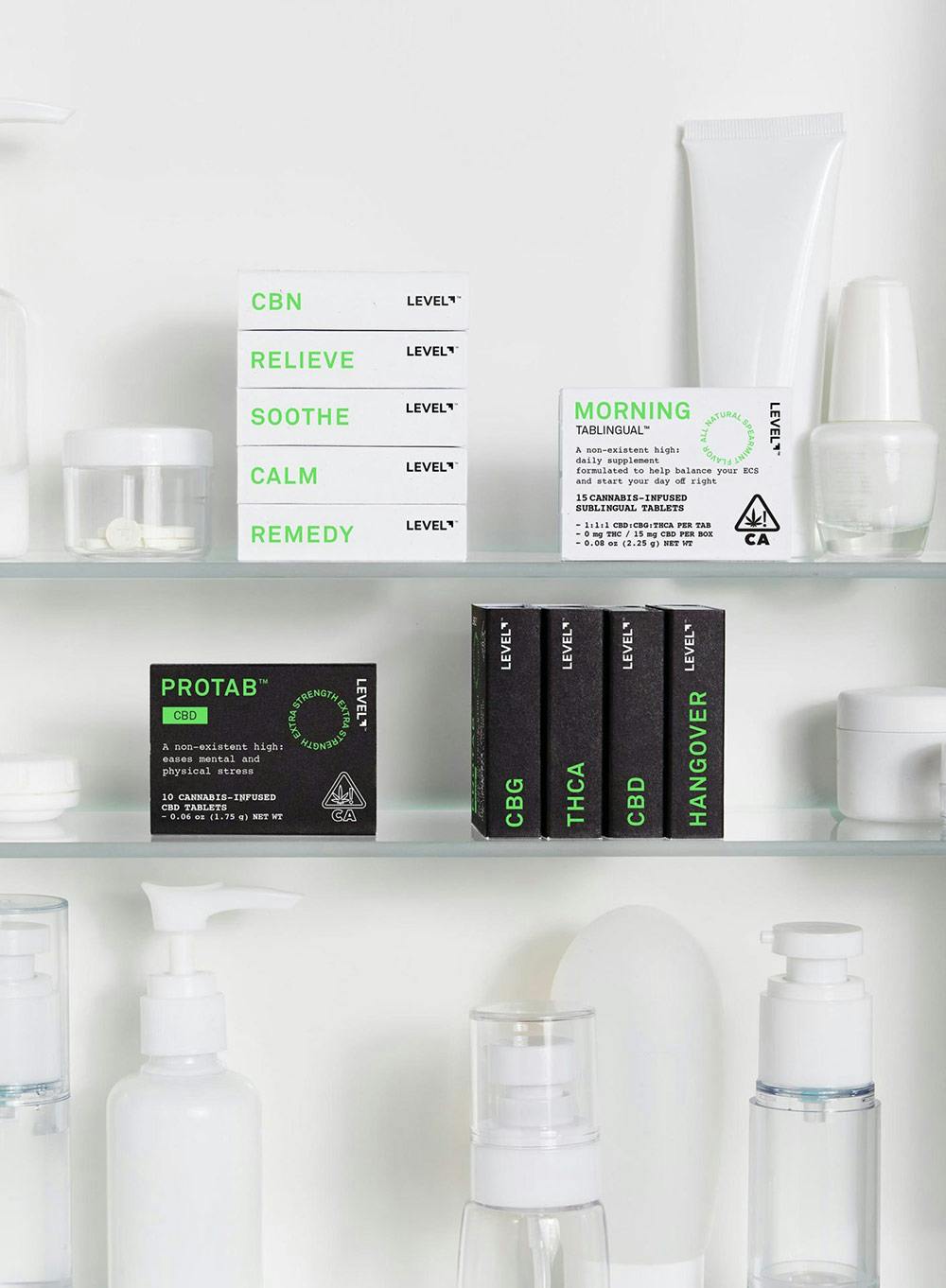 Sometimes You Just Want to Keep Your Cannabis Dosing Discreet 
Bring on the happy vibes, wherever and whenever you choose!
One of the many benefits of cannabis products is that they come in a variety of shapes and sizes. You can choose from pre-rolls, vapes, edibles, tinctures and many more, depending on what you're up for. Maybe you want to keep your cannabis discreet and don't want the attention that a pre-roll or a cartridge could bring. Or what if you just want your experience to be precisely dosed with a quick start time? Then Level ProTabs should be a welcome addition to your daily routine!
There's basically a ProTab for every occasion, but the most notable is their "Hangover" and the "CBG" options. (CBG is a non-psychotropic cannabinoid and has been found to provide relief to some medical conditions.) Pop one of these ProTabs in whenever the time feels right and discreetly add an extra dose of fun to your day.
Take Some "Me" Time and Just Chill 
Everyone needs a little dose of downtime in their routine.
After a long day or a tough week, it's always a good idea to schedule a little extra self-care into your routine. Whether that's taking a relaxing bath, doing some mindful meditation, catching up on a favorite show or book, or going on a long walk—chilling out should be required! If you need an extra dose of calm, add the Alien OG flower to your favorite chillax sesh. This hybrid flower has notes of pine and lemon, which is the perfect aroma to welcome a little bit more tranquility into your life.
We can't think of a better way to help both the mind and the body relax, and at the same time carve out a little space where you can just be in the moment. If you're looking for relief from stress, need a distraction from pain or even if you have some trouble sleeping, this purple and orange flower is ready to help increase feelings of calmness and serenity—which is something we could all use a little more of in our lives right now!
Because Everyone Needs a Cheat Day
We think cheat days should be a part of everyone's week.
After sticking to your healthy diet and exercise regime all week, don't you think you deserve a cheat day at the end of the week? Experts say to balance everything in moderation, which is why we think having a day where you can feel free to indulge in a favorite snack is an equally important part of your routine! If your go-to cheat day favorite happens to be cookies, then commence with your happy dance, because Big Pete's Treats has done the impossible—made cookies even more irresistible! While you might not need cookies in your life, chances are you want cookies in your life. And what better way to get the best of both worlds than a treat that combines THC with a delicious cookie crunch?
These edibles pack in 10mg of THC in each cookie, making one cookie enough to do the job, and still give you your sugar fix. There are a ton of combinations to choose from, and you can choose to buy a 10 pack, 6 pack, or get these cookies individually wrapped. We offer up a hearty "yes please" to this cheat day option.
These 7 cannabis products can be easily incorporated into any wellness routine, and are a guaranteed way to add much-needed self-care into your schedule. Make sure you carve out a little time for yourself each day and include some of the feel-good vibes that you expect from Caliva's cannabis products!