THE ULTIMATE CANNABIS DELIVERY GUIDE
What you'll get out of this guide
Cannabis Delivery with Caliva is seamless and convenient. But if it's your first time, you might want to know what to expect. So before you dive in, here's a quick summary of what you'll get out of this guide:
What cannabis products you can order for delivery
How payment works
Types of delivery services
Tracking your delivery order, and receiving it at your doorstep
Changes to delivery orders
Why Caliva is your best delivery option
Everything you need to know for a smooth and seamless Caliva weed delivery transaction
The cannabis industry is essential in California, and Caliva has been working extra hard to ensure that everyone can receive their doses without fail. The most convenient way for you to get your products is by choosing our cannabis delivery option, which makes it super easy to get your flowers, pre-rolls, edibles, and vapes safely delivered to your door. Our weed delivery guide has everything you've always wanted to know about how to get your Caliva cannabis delivered. So if you're looking to save yourself a trip to the dispensary, here's how you can stay home and order online!
When you choose delivery with Caliva, you can be confident you're getting the best cannabis products in California. Why? We grow and make our own sustainable flower-based products in-house! All Caliva flower is grown using natural and organic practices along with a lot of positive energy and good vibes. Each day we strive to bring a variety of plant-based solutions to you--either through our delivery service, in store or curbside pickup--to help you lead your best life. We also only partner with reliable third-party vendors from California to ensure you're getting the best products in the state. When you use caliva.com to order delivery, you know you're getting top-notch cannabis products delivered right to your door, every time.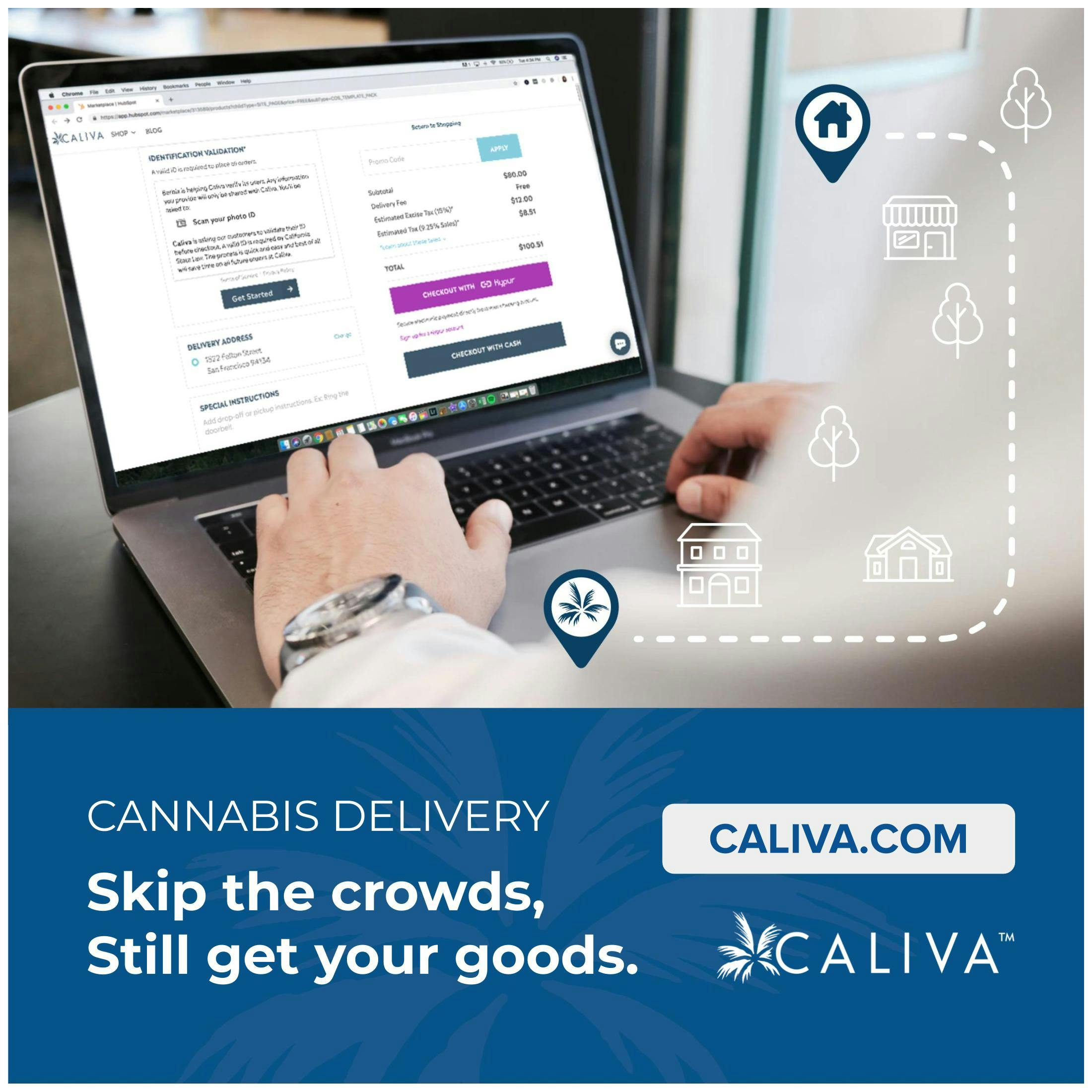 Are you a newbie to cannabis who isn't sure what product is right for you? No worries! Schedule a free phone or video chat with one of Caliva's Wellness Consultants. Not only can they answer all your questions, but they can help you become confident in your cannabis choices before ordering a delivery. Are you a cannabis regular? Enjoy the ease of choosing from all of your favorite high-quality cannabis products online, delivered to your door, and guaranteed to give you a delightful experience.
What Cannabis Products Can You Order for Delivery?
From flower to edibles to pre-rolls, Caliva has all your favorites

Many people want their cannabis products in as little time as possible, and when you decide to go for our delivery option, that's just what you'll get. Caliva has made placing an order for cannabis delivery online simple and easy. We offer all your favorite items--and some are sure to be your new go-to cannabis products--for delivery throughout the Bay Area, Los Angeles, and most of Orange County. 
Just head over to caliva.com and decide what items to add to your cart for delivery. Some of our most popular products like Reef Leaf pre-ground flower, Dogwalkers mini pre-rolls, DELI Alien OG pre-roll, Wana Vegan Gummies, and Caliva Daybreak vape are all available for delivery. So, no matter what you happen to be in the mood for, you can get them delivered to your door by your friendly Caliva delivery drivers. Orders are delivered from 9:00 AM to 9:00 PM and can be scheduled for delivery at the time that works best for you. In some areas, delivery is limited to specific days of the week. 
Having trouble deciding? Good thing we've made it super easy to shop based on what weed products you prefer or what type of experience you're looking for. After all, Caliva only offers you products created from our locally cultivated flower or selected from high-quality third-party vendors. This way, you know your online shopping experience is curated to include items that are the best of the best. Head over to the site and shop for delivery by:
We also offer vape batteries and chargers, in case you need a new one. If you have some serious brand loyalty going on, you also can browse by brand--like Kiva, Deli, Bad Apple--easily. For each product, we label THC/CBD content and any additional ingredients (like the chocolate chips in our edibles!), and where applicable we include the flavor and mood experience you can potentially expect with each cannabis product. Our goal in the end is to make the shopping experience easy, seamless, and fast. It's just one of the many ways we live by our commonly-used phrase: Happy Plants, Happy People.
Verify and pay for your weed delivery order
After you've shopped to your heart's content, head over to the checkout screen. If you don't already have a Caliva account, you'll need to set one up first before your delivery transaction can go through. Not to worry, it's free and easy to set up. You can thank us later when you come back for another edible or vape delivery order and your info is already saved. Caliva delivery does require you to have a minimum purchase of $50 before taxes, but we ensure that there are no added delivery fees. Delivery is always free! (A few locations may have a higher delivery minimum, so feel free to enter your zip code to see what your area's minimum delivery order size is.)
The next step is to verify your ID with our online verification process. Your ID will be matched against your submitted selfie, just to make sure it was you that completed the transaction. Both your ID and the photo confirmation is securely stored by our partner Berbix, which encrypts this sensitive information on the Google Cloud Platform and will never sell your data. If you do have any problems with the verification process, just hit us up here and we'll get it worked out.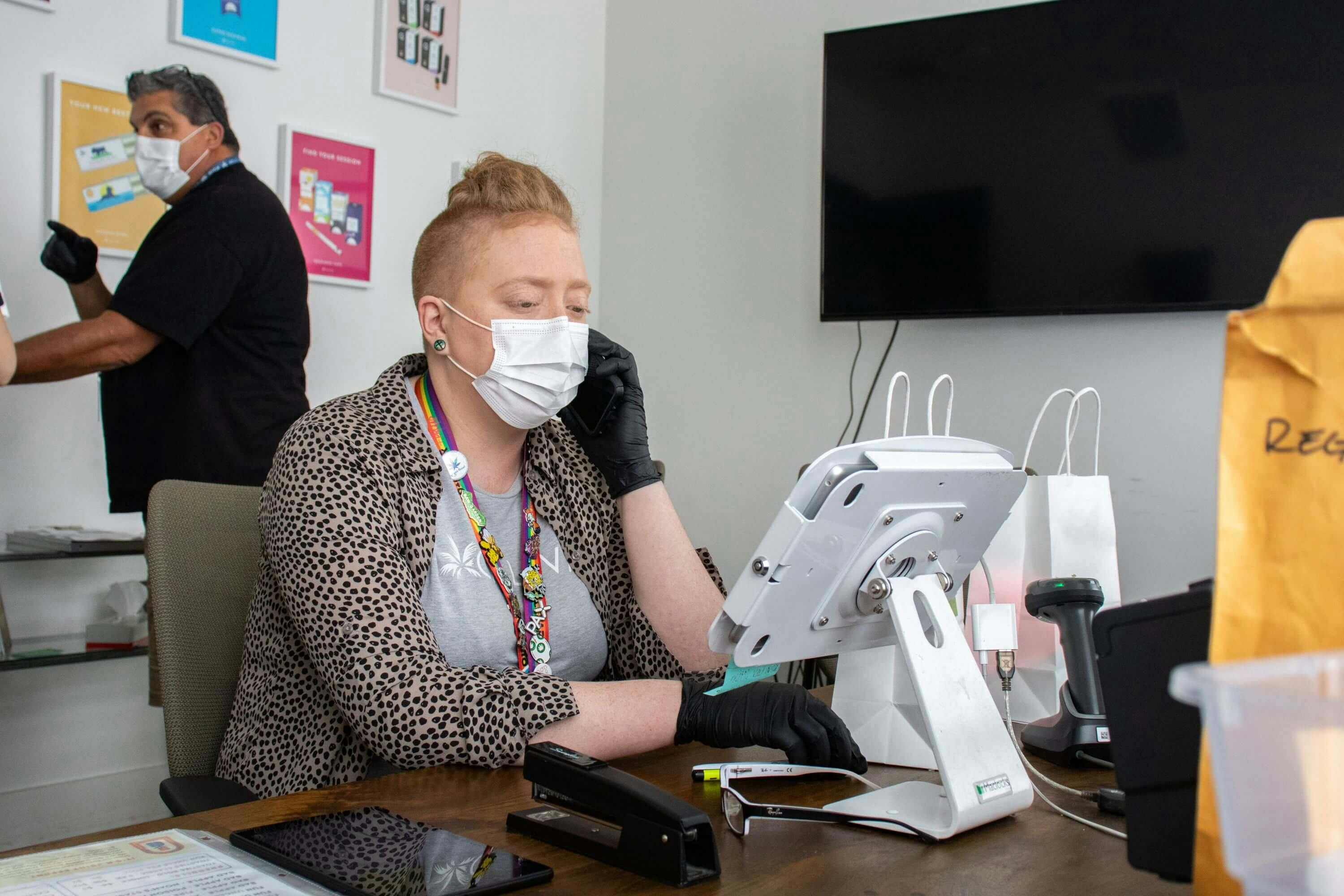 Once you've got the right amount of items to meet the minimum and have verified your ID, you can pay for your weed delivery either with cash or by using our online payment system through Hypur. Once your driver arrives, you'll receive a text message asking for your Hypur personal access code (PAC) in order to process the payment. All that stands between you and your order is one more ID verification and you're golden!
What is Hypur you might ask? Caliva recently teamed up with Hypur to make paying for online orders easier, allowing customers to pay for delivery (and pickup) transactions without using cash. Many of our orders are completed with Hypur because it's convenient, secure, and straightforward. If you don't already have a Hypur account, once you sign up for one, your bank account will be linked to it--making paying for cannabis delivery easy peasy.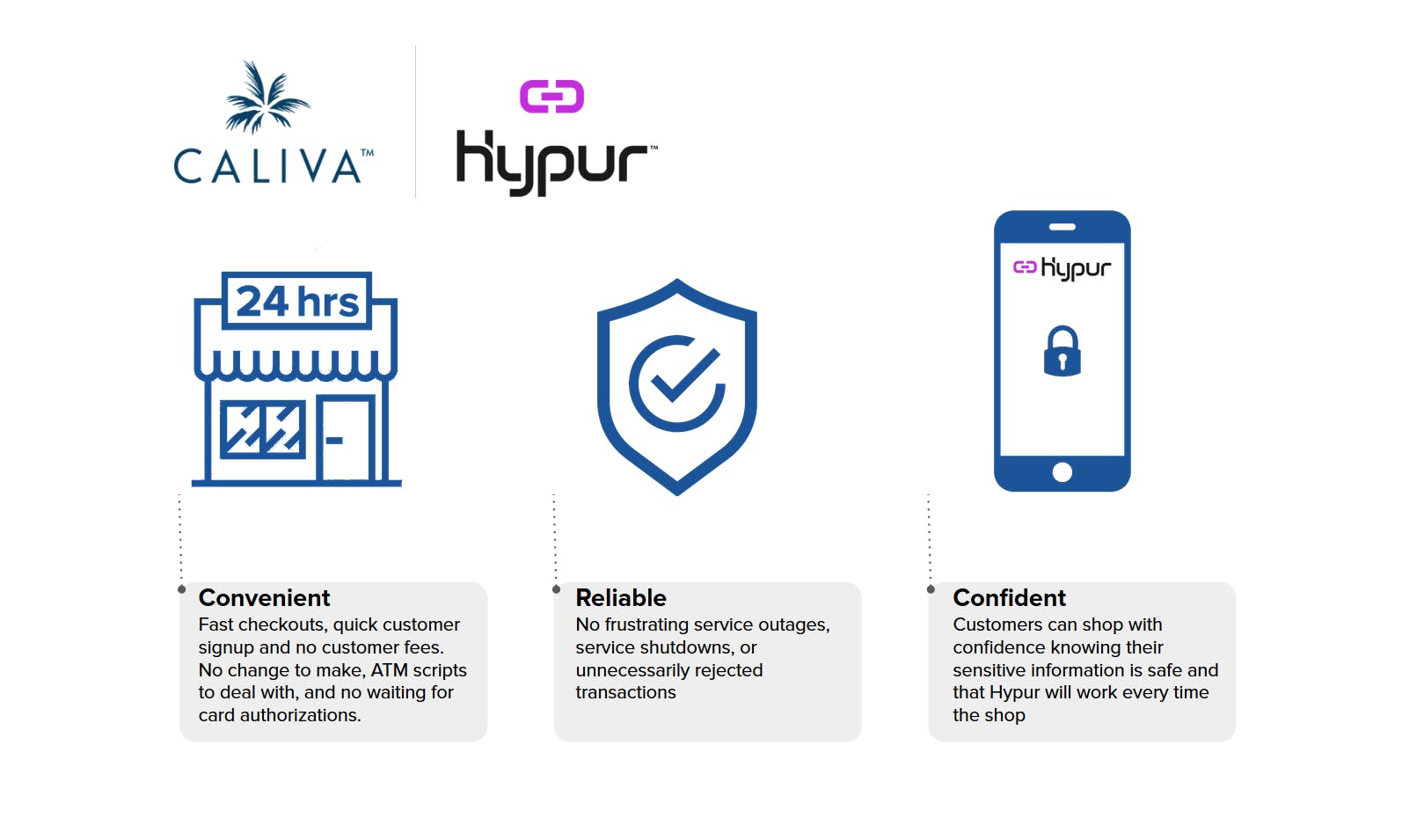 Prefer cash? Not a problem. You can also choose the cash option and when your driver arrives, they'll just need to verify your ID is the same as the one that placed the order. Once that's done, your cannabis products are finally all yours and everyone goes home happy. Now that's a win.
Veterans and seniors, you can get a discount on your cannabis delivery!
If you are a veteran, please indicate your veteran status in the "notes" section of the checkout process, before you place your order. If you are a new Caliva customer, we'll ask you to send proof of your veteran status.
If you're a senior (age 65 or over), please indicate so in the "notes" section of the checkout process, before you place your order.
Tips for dispensary deliveries are appreciated, but never required
It never hurts to show you care and appreciate your drivers for all they're doing to make deliveries happen, which is why there's always the option to leave a tip. If you take advantage of paying online for your delivery order with Hypur, you can choose an amount to tip both your driver and budtender at the dispensary. Never fear, you can always choose the old school method of tipping your driver with cash as well. Either way, 100% of tips go directly to the drivers. These awesome, hardworking and passionate people aren't looking for tips and they definitely aren't required, but they are always appreciated! 
Keep Track of Your Delivery Order All the Way to Your Door
How long does it usually take for online orders?
Depending on where you're ordering from, Caliva has different delivery service levels--so depending on your delivery location, you might see the following options:
Express: A curated menu of our best sellers, delivered in less than an hour
Delivery: An extensive menu of products, available on-demand or scheduled for a later time.
Express in Less Than an Hour
This is our fastest delivery option, so if you're one of the lucky ones that has this option available in your area, consider choosing this if you need your cannabis products right now (typically within an hour or less). We offer a limited selection of top-selling items for this delivery option, but you can rest assured you're going to get your cannabis items ASAP. 
If this service is available in your area, you'll see it as an option when you go to caliva.com after you enter your delivery address. We're planning to expand this service to more zip codes, so if you don't see this as an option for you, not to worry, it could be coming your way in the future!
Delivery On-Demand or Scheduled for Later
When you choose this option, you get to pick the delivery window that works for you (available in two hour blocks). You can decide whether to place your order for the nearest delivery window available, or schedule it for a future time that fits better with your schedule--up to one week in advance. Either way, the menu of cannabis items available for on-demand and scheduled delivery is quite extensive.
Once you've completed this type of online order, you're that much closer to having your edibles, vapes, or lotions delivered right to you--exactly when you need them. 
Is there a way to track my delivery?
While you're waiting for your cannabis order, we've ensured you can follow and track your driver all the way to your doorstep. Once the order is assigned to a driver, you'll receive a text message to your mobile phone, which will allow you to get updates and follow the driver until they arrive at your destination. You'll receive a notice letting you know the estimated time of delivery, and if the driver runs into any issues along the way. So make sure to keep your cell phone handy, and of course, on.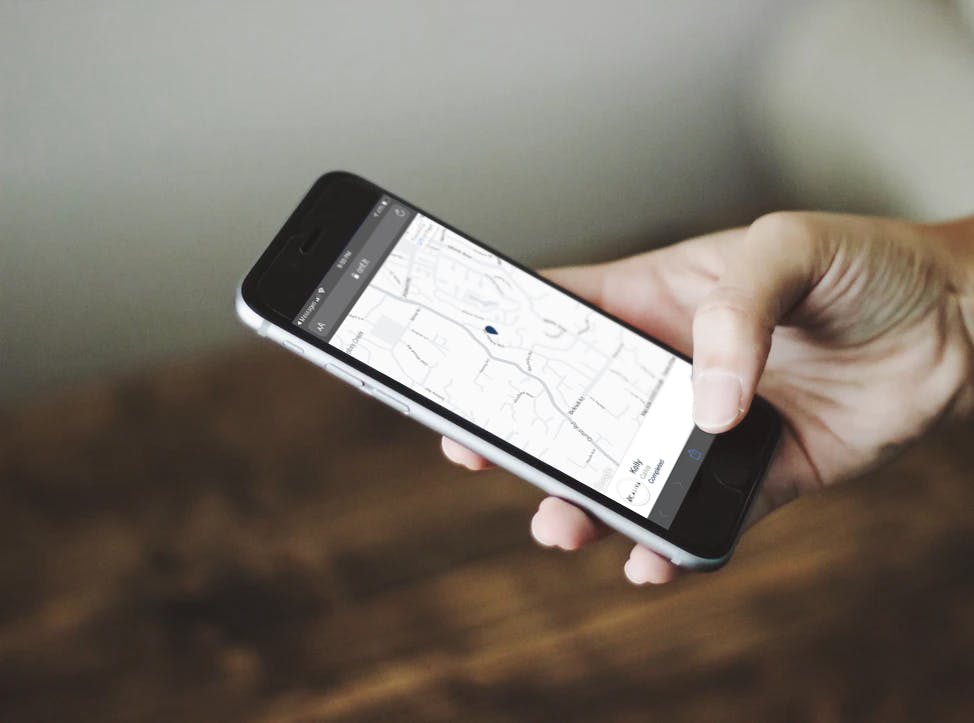 If the number you gave at checkout isn't a cell phone, or it's the wrong number, you won't be able to receive your cannabis delivery updates, and no one wants that! If this happens, just get in touch with Caliva Customer Support, and we'll smooth everything out and make sure your cannabis gets delivered as soon as we can.
How will I know my cannabis delivery has arrived?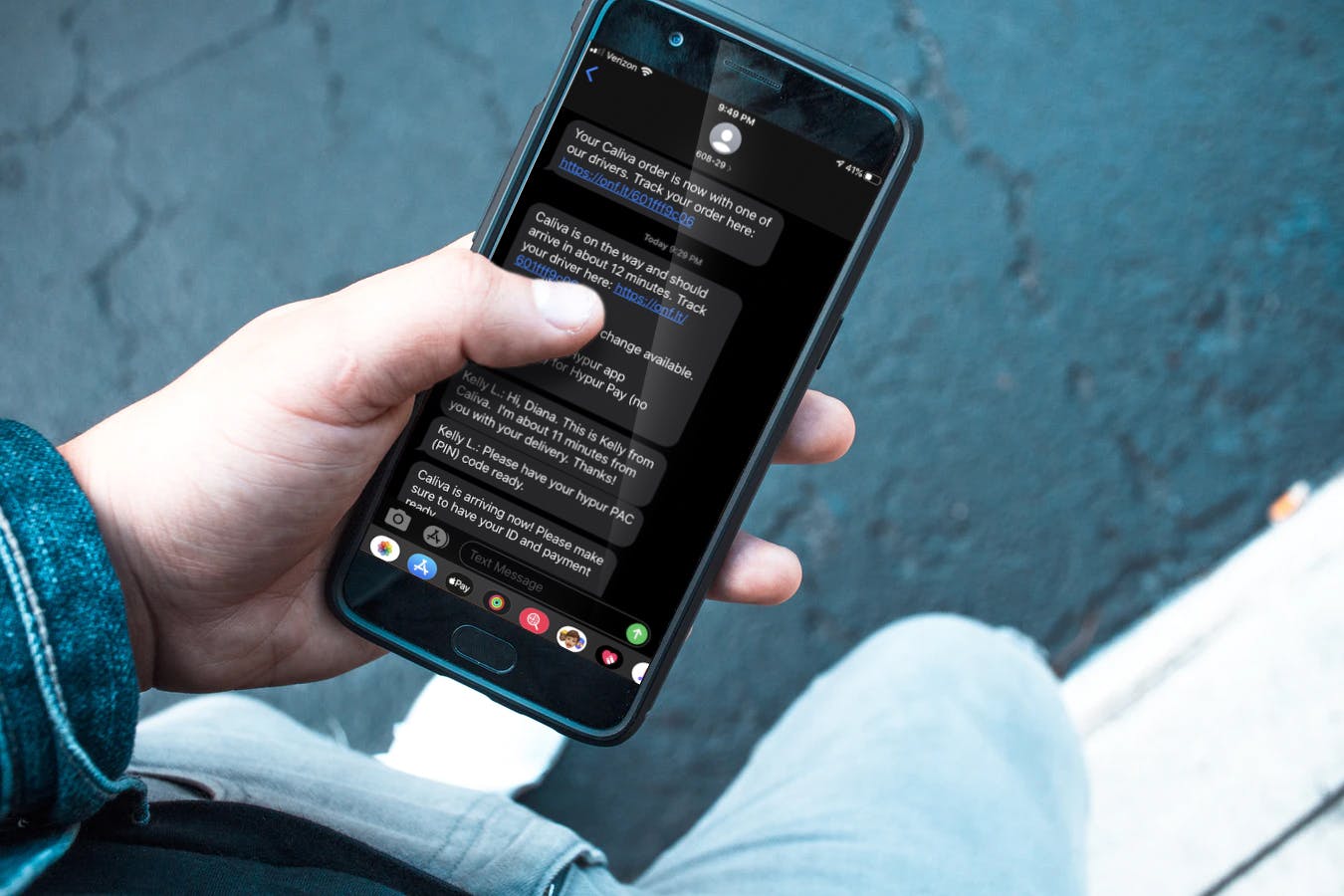 You'll receive text updates beginning when you place your order online, all the way until it's delivered. The Caliva delivery drivers work hard to ensure your products arrive in a timely manner, and when they reach your destination, will pull up so discreetly, you might not even notice! Our vehicles are purposefully unmarked, because we like to keep things as low-key as possible. 
If you paid online with Hypur, the driver will still need to verify your ID by confirming your PAC or PIN with them. If you're paying with cash, you'll need to ensure the correct amount is there for the delivery driver, provide ID verification, and then they'll leave your pre-rolls, edibles, vapes, and any other cannabis products you ordered. This extra verification step is included at delivery because our drivers want to be sure the person who paid for the order is the person accepting it!
Since April, we have instituted contactless delivery and pickup, and our drivers take all the proper safety and health precautions necessary to protect themselves and customers. If you pay with cash for your delivery, our drivers will ensure social distancing is respected and will pick up payment and complete their drop off while maintaining the guidelines suggested by the CDC. This ensures everyone can stay healthy and happy.
Is there a way to change or cancel the dispensary delivery service?
We get it, mistakes happen. Yup, even with cannabis delivery orders. No problem at all, if you change your mind and decide you didn't mean to place the order and would like to cancel it, get in touch with Caliva Customer Support and they can get your order straightened out. You can also contact the support team if you'd like to change the method of payment, or add more products to your order. If you accidentally ordered 14 cases of our gummy edibles but only meant to order four, don't panic. You can contact support about this too, although if you did mean to order 14 cases, more flower to you!
Something missing in your order? Give us a call and we'll set it right. As long as it's within our delivery times of 9am-9pm, we should have no problem getting the missing part of your order--flower, edible, tincture, or extract--out and delivered.
So, why choose Caliva for your next online cannabis delivery order?
Here are 6 reasons why Caliva is the best all-around weed delivery service option in CA
Cannabis on your terms. Our services are constantly expanding to make getting your weed as easy as possible for you. When you want it delivered to your front door, choose express for delivery in less than an hour, or schedule your delivery for time that works for you--up to one week in advance. For the plan-aheaders, order in-store or curbside pick-up from our San Jose or Los Angeles stores. And for the in the moment purchases, walk right into one of our stores to get your goods from a friendly Caliva budtender. Or in San Jose use our drive-up service so you don't even need to get out of your car!
Remote consultations to help cannabis newbies and veterans alike. Need help deciding or have a question? Schedule a video chat or a call with one of our knowledgeable budtenders.
From our grow to your door. Caliva cultivates its own indoor-grown flowers, and uses natural, organic practices to create our own products. Each Caliva product is always tested for compliance and safety, and delivered straight to your door from our facility.
Extensive menu of top-notch cannabis products. In addition to our own products, Caliva provides you with an extensive selection of best-selling, top brands and products.
Live customer service. If there's ever an issue with your delivery order, just visit our site and contact our customer service team for a live chat!
Broad coverage area. We deliver to most of the Bay Area, LA and Orange County--have a look at our coverage map here.
We hope our guide to a safe and smooth cannabis delivery transaction answered all your questions about how to get started with online ordering and the delivery process. Still have some questions? No worries, head over to our delivery FAQ page full of answers to all your weed delivery questions. Cannabis delivery is the convenient way to get all your favorite cannabis products, so be sure to choose delivery the next time you place an online order!